New Ferrari hybrid tech to spread to other plug-in models
The first plug-in hybrid Ferrari is the SP90 Stradale, a V8 supercar, but electrification will work its way across Ferrari's range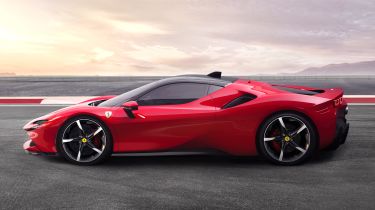 Ferrari will trickle down its new plug-in hybrid technology applied to the SF90 Stradale onto smaller, less expensive models as the brand goes in search of new customers.
The new Ferrari SF90 Stradale, the first ever plug-in hybrid from the Itailian firm, sits as a flagship model in Ferrari's series production range. While that leaves space above it for special projects and limited run models building on the hybrid technology, electrification will also be applied further down the line-up in the near future.
Speaking to Auto Express, Ferrari Chief Technology Officer Michael Leiters said that it would be "very easy" to adapt the hybrid technology used on the SF90 Stradale for use in other new cars. "There will be other [hybrid] models, but with specific powertrain characteristics," Leiters explained.
The SF90 Stradale's turbocharged 4.0-litre V8 engine is supplemented by three electric motors that develop 217bhp, which are fed by a small 7.9kWh battery pack. The battery is produced by a third party with little supply constraints.
"By entering this segment I am certain we will attract new customers,'' said Ferrari CEO Louis Camilleri on stage at the reveal of the SF90 Stradale, while reiterating that Ferrari will reveal five new cars in 2019.
Camilleri recently revealed that the marque would release 15 new models by 2022, 60 per cent of which will feature an electrified powertrain. The upcoming Ferrari SUV is expected to be the last of the models to be launched during that time frame.
Ferrari has already confirmed development of a new V6 engine family for use lower down the range in its 'Sports' series models. An electrified version of this powertrain was expected to feature in the new model, but now looks set to be reserved for future, cheaper models and the brand's upcoming SUV.
Let us know what you think of Ferrari's move to plug-in technology in the comments...