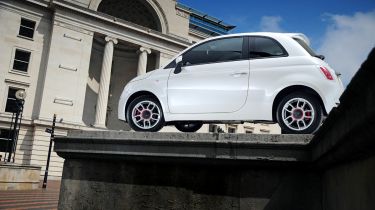 Why it won...
Twelve months have passed since the Fiat 500 picked up its first Auto Express City Car of the Year award, but its appeal now is stronger than ever. It has an incredible record in our road tests, having shrugged off every rival that has come along. Plus, the range has now grown to include feisty hot hatches as well as a convertible model – so the 500 is a deserving winner of the Best City Car prize for the second year running.
Our definition of a top-class urban runabout is a model that fits in perfectly with a daily commute, is designed to slot into the tightest city spots and doesn't make too many demands on your budget. The 500 scores on all counts – and then it adds retro styling into the bargain.
It was back in Issue 1,047 that the little Fiat faced its toughest test of the year – when it came up against the new Ka. Ford had used the 500 as the basis for its latest model, and with the blue oval's engineers having added some of their suspension expertise to the package, along with a new interior, the odds were stacked against the Fiat. Yet while the Ford ticked all the boxes, it did so without the feelgood factor offered by the cute 500 – so the Italian model came out on top.
With the introduction of a new convertible version, featuring a unique sliding fabric hood, plus the arrival of stop-start technology and the prospect of a MINI Clubman-rivalling estate, the Fiat looks set to dominate for some time. Will it be crowned the city car champ in 2010? Don't bet against it… only a truly special car will be able to take the title from Fiat's retro masterpiece.
Commended
Ford KaAfter the sheer brilliance of the original Ford Ka, it's a shame the maker didn't go it alone when developing its successor. Basing your city car on the class leader is a smart move, though! The Ka can't match the Fiat's desirability, but it's great to drive. If the retro 500 isn't your cup of tea, this is the ideal alternative.
Hyundai i10Rarely has a car so small and inexpensive had such a big impact on a brand's line-up. The i10 is one of the stars of the Scrappage Scheme, selling in huge numbers – and its success is no surprise. Prices start at £7,200 (or £4,995 with the discount) for a car that's intelligently designed, well equipped and good to drive.
Toyota iqFor decades, Auto Express has been crying out for a daring Toyota – and finally, here it is. The iQ provides two-adult, two-child transport in a tiny yet ingenious package. Even more impressively, it handles better than many full-sized superminis. Perhaps that's why Aston Martin is planning its own version of the baby Toyota...