Ford launches new keyless fob to combat relay attacks
The new key fob enters a sleep mode after 40 seconds without movement, after which it will not respond to hacking attempts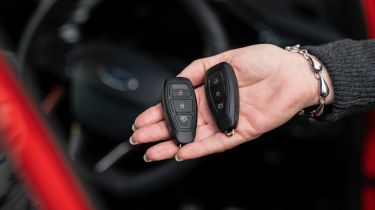 Ford has launched an aftermarket key fob upgrade that makes its keyless entry models far less vulnerable to theft via relay attack.
The new fob is equipped with a motion sensor that detects when the key has been stationary for more than 40 seconds.
Once the 40-second time period passes without movement, the key fob enters a sleep mode and will not respond to any hacking attempts, including relay attacks where thieves use a special device to boost the signal between a key inside a house and a car outside, so they can unlock it and start its engine.
Ford's keyless fobs are designed to only work within a two-metre radius of the car. The new key will reactivate as soon as it detects motion again and will unlock the car as soon as the owner takes it into this two-metre vicinity.
The upgraded fob now comes as standard with all new Fiesta and Focus models. In addition, existing owners of these models can purchase the key as an aftermarket upgrade, as long as their car was not built before March 2018. It costs £65 for the Fiesta and £72 for the Focus, and takes just under an hour for a mechanic to install.
Ford security specialist Simon Hurr commented: "The online availability of devices which have no place in public hands has long been a problem for Ford, our industry and crime-fighters.
• Keyless theft sees car theft insurance payouts surge by 29 per cent
"We are pleased to respond with a simple but effective solution, swiftly implemented to help protect owners of our top-selling cars."
The news follows the launch of Thatcham Research's controversial new vehicle security test, which saw a number of models – including the Ford Mondeo – given low overall security scores as a result of being fitted with keyless entry, making them susceptible to relay attacks.
Have you ever been the victim of keyless car theft? Let us know in the comments below...