Ford EcoSport Concept
New video gives best look yet at Fiesta-based Ford EcoSport Concept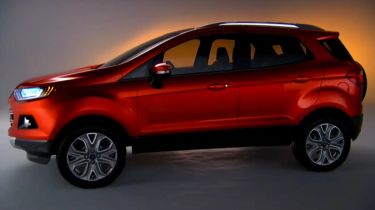 [[{"type":"media","view_mode":"content_narrow","fid":"76339","attributes":{"alt":"","class":"media-image"}}]]
Ford has revealed a Fiesta-based small SUV, called the EcoSport. The new model has made its debut at the Delhi Auto Expo in India, and now Ford has given us a closer look at the baby SUV with this video.
The styling is clearly derived from the Fiesta, but uses a bold front grille and slimmer, more detailed headlights.
It will also be one of the first recipients of Ford's new three-cylinder 1.0-litre turbocharged EcoBoost engine. In the EcoSport it will produce 118bhp, 170Nm of torque and emit less than 140g/km of CO2.