Henessey VelociRaptor is a mad, mutant Ford Raptor pick-up
With a massive power boost, brutal styling and two extra wheels the tuned Raptor is the ultimate in go-anywhere motoring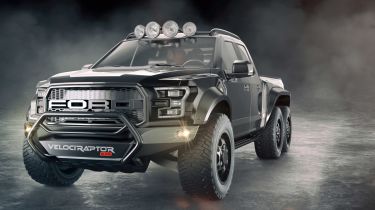 Ford's F-150 Raptor already yells 'Freedom!' with a capital F with its aggressive styling and go-anywhere ability, but now tuning company Hennessey has got its hands on the rugged pick-up. It's added an extra 150bhp and two more wheels to create this – the brilliantly named Hennessey VelociRaptor 6x6.
You'd think that the market for insane six-wheel drive pickup trucks would already be pretty saturated by the Mercedes-AMG G 63 6x6, but Hennessey doesn't think so, and it's created the VelociRaptor as a direct rival. The truck stacks up well, too, thanks to Hennessey's expert tuning.
The VelociRaptor boasts an insane 600bhp from its 3.5-litre V6 engine – comfortably beating the Mercedes' 563bhp V8. It does this with the addition of new twin-turbochargers, a custom exhaust, and an upgraded ECU. A locking differential means it can off-road with the best of them, too.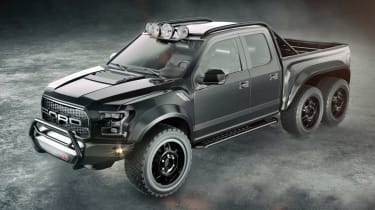 The VelociRaptor also benefits from unique bumpers front and rear, as well as upgraded suspension, 20-inch wheels shod in off-road tyres, and lashings of LED lighting. Optional extras include upgraded Brembo brakes, a unique interior, and body armour – as well as even larger wheels.
• Best pick-up trucks to buy now
The Hennessey VelociRaptor even undercuts the G 63 6x6 on price. Hennessey says it will start from $295,000 (around £231,300) – comfortably under the £370,000 you'd have to part with for the mighty Mercedes.
Hennessey will even hit the lesser cousin of the Merc 6x6 – the G500 4x4 squared – by offering the 600bhp performance upgrade as a tuning pack for existing four-wheel Ford Raptors. The package costs $22,500 to fit to a 'standard' Raptor.
Would you go off-roading in this monster? Let us know in the comments below...