Ford Fiesta ST production increased to meet demand
Ford boosts Fiesta ST production by 15 per cent to meet high level of customer demand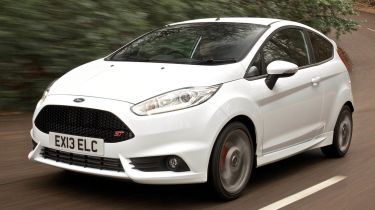 The Ford Fiesta ST is proving significantly more popular than Ford had predicted, with over half of the annual production run sold just three months after its launch. 
That has led Ford to announce that it will increase production of the Fiesta ST by 15 per cent, taking the total number of cars built to 60 per day, on account of large levels of consumer demand. The UK's appetite for the ST is proving bigger than most, too, with 56 per cent of all order across Europe being made in UK Ford dealers.
Built on the same line as the standard Fiesta at the company's factory in Cologne, an annual production run of 5,000 STs is planned, and began on April 1. Ford has now sold over 3,000 of its first year allocation in the UK, meaning, as it stands, it could sell twice as many as it first thought.
Because of the backlog of orders the waiting list currently stands at three months - taking into account a three-week summer shutdown at the factory from the last week of July onwards. So if you placed an order today, you'll be behind the wheel of your new car by the beginning of November.
The Fiesta ST undercuts its main rivals - the Renaultsport Clio and Peugeot 208 GTI - by as much as £2,000. Prices start at £16,995 for the entry-level ST 1, while another £1,000 buys you the ST 2, that comes with LED running lights, half-leather Recaro seats, climate control and keyless entry.
Ford has confirmed that 56 per cent of buyers have opted for the higher-spec ST-2. The firm has also just announced an official Mountune tuning package which costs £599, and lifts the engine's power to 212bhp.