New Ford Focus RS to get 330bhp
New 2.3-litre turbocharged EcoBoost engine could power third-generation Focus RS, says top engineer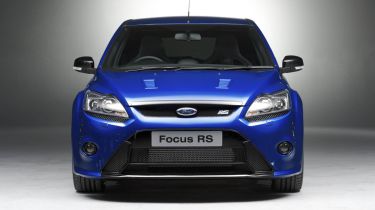 More details are emerging about the all-new third-generation
Ford Focus
RS – and it's likely to be powered by a 2.3-litre EcoBoost turbocharged engine producing up to 330bhp.
Speaking at the launch of the
247bhp Focus ST
, chief program engineer for the ST and all other global performance cars, Matthias Ton, stated that the 2.0-litre EcoBoost engine used by the ST was close to its power limit without significantly upgrading its fuel system and turbocharger.
Ton confirmed that, if a next-generation Focus RS is produced, it is likely to use a tuned version of the 2.3-litre EcoBoost engine currently under development in North America. Though destined to replace the heavier V6 units found in entry-level Ford Mustangs in the US, this powerplant could be calibrated to suit the sportier Focus RS.
With 330bhp the new 2.3-litre EcoBoost engine would have 32bhp more than the previous generation 301bhp 2.5-litre five-cylinder turbo RS, and almost as much power as the 345bhp limited edition RS500. 
The new Focus ST was designed to be reasonably subtle in appearance, keeping a space open for a more extreme-looking car with a tarmac-scraping front spoiler and prominent rear wing. There is also significant scope to upgrade the interior of the ST, with more sporty Recaro seats. 
A mechanical limited slip differential (not available on the ST) would most likely be standard on the new RS, making it more suitable for regular use on track. 
Bigger brakes and stiffer suspension will also feature. It is unknown at this stage whether the RS will retain the ST's Torque Steer Compensation system and variable ratio steering rack or use Ford's RevoKnuckle front strut, which featured on the last RS and was a mechanical system designed to aid traction and reduce torque steer. 
The new Ford Focus RS is expected to go on sale by the end of 2013 at a substantial premium to the ST.