New Ford GT Heritage Edition is tribute to 1967 Le Mans win
Ford Performance honours historic 1967 GT40 racer fifty years after it won Le Mans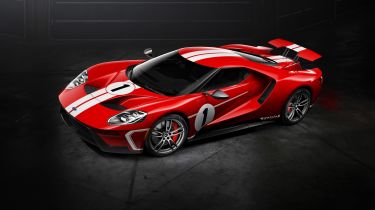 Ford Performance has revealed an even more special version of the already rare Ford GT in the form of a limited-run '67 Heritage edition.
Built as a tribute to the 1967 Le Mans-winning GT40 Mark IV racer, driven by Dan Gurney and A.J Foyt, it features a unique Race Red exterior with white stripes and an exposed carbon package. The bonnet is white with matching door graphics, too.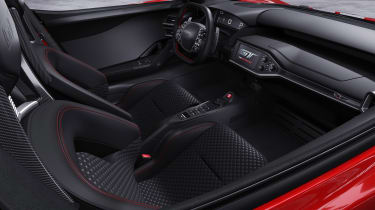 The GT 67 Heritage edition also gets 20-inch one piece aluminium wheels, protected in a clear coat with black wheel nuts. Red and silver painted mirrors complete the look.
Inside the special GT features black leather trim for the carbon seats, with red stitching on the seats and wheel. A dark satin black pain is now used on the instrument panel, door bezels and roll bars Matt carbon fibre trim can also be found, while each model has an individual serialised ID plate.
Ford hasn't announced official dates and pricing for the GT '67 Heritage edition, instead stating a limited number will be available for the forthcoming model year.
Do you like the look of the Ford GT Heritage Edition? Let us know in the comments section below...