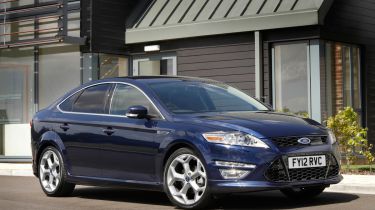 Ford was meant to be replacing the Mondeo in the summer of 2013, but changes to its global production plans mean it will have to soldier on for another year. No matter, because the legendary family hatch is still one of the best in the business.
Its huge exterior dimensions can make parking the big Ford a pain in crowded multi-storey car parks but the Mondeo still drives brilliantly away from grid-locked city streets. Agile handling, incisive steering and powerful engines make this the undoubted driver's choice in the family car segment. It's practical, too, with lots of rear legroom and a gigantic 528-litre boot.
The 138bhp 2.0 TDCi diesel engine is the pick of the range, mixing performance that provides 0-62mph in 9.5 seconds with economy of 53.3mpg. The 1.6 TDCI ECOnetic promises CO2 emissions of 112g/km, making it a fine choice for high mileage company drivers. Downsides are few and far between but its ubiquity and dated interior are the biggest criticisms we can think of.