Honda Civic Type R details
The Civic Type R will get a brand-new 250bhp 1.6-litre turbocharged engine when it arrives in 2015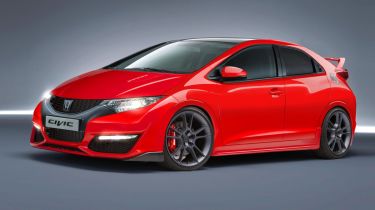 The new Honda Civic Type R will feature a brand-new 1.6-litre turbocharged, direct-injection engine with more than 250bhp when it arrives in 2015, an inside source has revealed.
Honda also has an eight-speed dual-clutch automatic transmission under development, which could be offered in the new hot hatch.
At the Paris Motor Show last month, Honda CEO Takanobu Ito confirmed that the Civic Type R would go on sale in 2015, but refused to elaborate on the details.
He did however confirm that his aim was to make the new Type R the fastest front-wheel-drive model ever around the Nurburgring – a record currently held by the Renaultsport Megane 265 Trophy in eight minutes and eight seconds.
To achieve that the car will need to weigh less than 1,200kg and have a power figure of more than 250bhp, we've been told. The engine should have no problem managing that level of power output - a tuned version will undergo testing next year in Honda's World Touring Car Championship contender.
Just like the new 247bhp Ford Focus ST, there's no plans to build a three-door Type R, although our source refused to rule out a Type R version of the Civic estate – a new bodystyle that will debut in concept form sometime next year.