Honda Civic Tourer - Best estate cars 2017
The hatch is due to be replaced, but the Tourer estate is still a spacious and versatile family car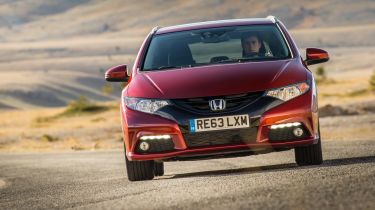 The Honda Civic Tourer already has a leg up on the competition thanks to its patriotic appeal - it's built at Honda's factory in Swindon, Wiltshire, along with the Civic hatch, Jazz supermini and CR-V crossover.
Of course, that's not the only reason to buy the Civic Tourer. It excels where an estate car should, thanks to a truly mammoth 624-litre boot that's only topped by the Peugeot 308 SW. It's a practical, square shape too - and the back seats fold flat effortlessly when loading longer items.
Engine choices are pretty limited, with the 1.6 i-DTEC being our pick of the range thanks to punchy performance and exemplary economy. Ride and handling aren't the strongest points, but the Civic Tourer does everything that's expected of it, and it's easy to drive around town.
Inside, the Civic is vast, but the design's not quite as cohesive as many rivals, and the split instrument cluster is just confusing. But it comes well equipped, and features an Android navigation package, too.