Honda Jazz Si vs SEAT Ibiza FR
Can the sporty Si model sprinkle some stardust on the Honda Jazz? We test it against the new SEAT IBiza FR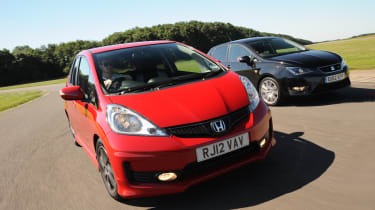 Think of a Honda Jazz, and the words practical, sensible and dependable spring to mind. With its brilliantly thought-out cabin, massive boot and robust mechanicals, it has always been a car you choose with your head rather than your heart.
Yet that could all change with the new Si model. It's designed to inject some much needed magic into the Jazz line-up, and boasts a bold bodykit and sports suspension, plus a smattering of extra equipment.
But it's not the only sporty supermini that's been under the knife. The head-turning SEAT Ibiza has been given a mid-life refresh, while the hot FR line-up has been extended to include a greatvalue entry-level model powered by the company's brilliant 1.2-litre petrol turbo.
So will the racy new Honda be given a warm reception, or will it be blown away by the scorching SEAT? We find out...
Verdict
So, has Honda rediscovered its high-performance mojo? On the evidence of the Jazz Si, the answer has to be no. The uprated chassis certainly delivers a sharper driving experience than the standard car, while the bulging bodykit attracts more attention, but ultimately the newcomer is little more than a lightly tweaked special edition.
On the move it simply doesn't have the performance or poise you'd expect from a pocket rocket. The engine thrives on high revs and the crisp gearchange is one of the best in the business, but ultimately the Jazz just lacks what it takes to be a warm hatch. This is not a complaint that can be levelled at the Ibiza.
With its gutsy engine, racy looks and agile chassis, the SEAT is a genuine junior hot hatch. It can't match the brilliantly packaged Honda for versatility and practicality, but in our test it's driving fun that matters most – and this is where the FR excels.
Its chassis isn't the last word in finesse and the ride is a little firm, but it's easy to look past these flaws when you consider the car's spirited performance and engaging character. That the SEAT is also the cheapest of our pair to buy, tax and fuel is the icing on the cake.