"Infiniti is offering something the German brands can't - exclusivity"
Infiniti is aiming to top our Driver Power dealership survey rather than beat the Germans - a positive according to Mike Rutherford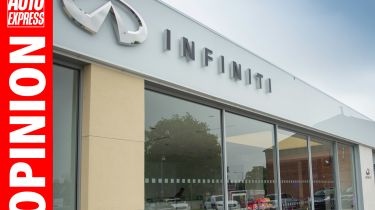 Infiniti is the new kid on the block in Britain and doesn't apologise for repeatedly using and talking about the two V-signs – vision and values. At the same time, it religiously chants its five favourite F-words – fast, friendly, fun, focus, flexible.
All this is part of Infiniti's in-house vocabulary. Words like 'dealerships' and 'retailers' are not. Cars are sold and serviced via what it calls Infiniti centres.
If you're a customer with a justifiable complaint, you won't be fobbed off with a standard 'please accept this gesture of goodwill' type letter. More likely is that you'll be invited to Goodwood. You may even get to rub shoulders with Infiniti's hands-on Performance Director, reigning F1 champion, Sebastian Vettel.
If the firm is to be believed, it and its small band of centres will offer Britain's beleaguered motorists levels of customer service, satisfaction and conflict resolution they've never experienced before. Only time will tell if the promises are eventually delivered. Effectively, the brand, which boasts an undeniably handsome product line-up, is still being launched, while its sales/servicing centres remain in the roll-out phase.
Infiniti isn't trying to and can't win a sales war against Audi, BMW and Merc. That's a positive. By selling a comparatively tiny number of cars, it's offering something the three German brands no longer offer – exclusivity.
• Opinion: "DS is supposed to be battling the big German premium marques – that's one hell of a job"
Audis, BMWs and Mercs are on almost every street. Opt for an Infiniti and it's possible you'll be the only person in your town who's got one. Equally important is that the flagless firm with financial resources from Japan, a world HQ in Hong Kong, European hub in Switzerland, plus a design studio and production line in England, is small, flexible and bothered enough to learn from the mistakes of others.
Inexplicably, those premium German marques are rooted in the bottom half of our Driver Power dealer survey. Infiniti mischievously admits it's done its research and knows why. Furthermore, it vows never to embarrass itself with the below average dealer networks that Audi, BMW and Merc have somehow burdened themselves with.
"It's all about the primary person – the customer – at Infiniti," the firm says with apparent conviction. "Everything else comes after him, or her."
Would you buy an Infiniti? What do you think of the brand's plan? Let us know in the comments below, on Twitter or on Facebook.