"DS is supposed to be battling the big German premium marques – that's one hell of a job"
Peugeot's push upmarket could scupper DS plans to rival Audi, says Auto Express editor-in-chief Steve Fowler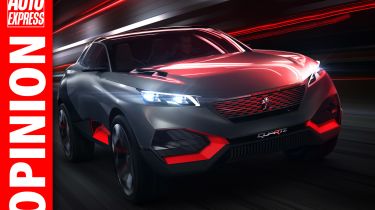 Peugeot's Quartz concept, revealed ahead of the Paris Motor Show, is a timely reminder of the brand heading upmarket and comes off the back of a recent trip to Paris to meet up with (still relatively new) PSA boss Carlos Tavares.
He's the man charged with making the French car maker debt-free and profitable, and turning its three brands –Citroen, Peugeot and DS – into world-beaters.
Tavares is a racer at heart – in fact, when I met him, he was still glowing from a victory in a Peugeot RCZ in a 24-hour race the previous weekend – and his mind works at racing speeds all the time as you fire questions at him.
His vision for all three brands is clear: Citroen is the stylish yet affordable brand – that's already crystalising via cars like the C4 Cactus. Peugeot is posher and chasing Volkswagen, while DS (he hopes) will be an even more upmarket rival for premium brands such as Audi, BMW and Merc.
We're already seeing signs of Peugeot's move upmarket, not only in the quality of its cars. It's been making great strides in our Driver Power customer satisfaction survey. It finished just behind Mercedes, BMW and Audi in the manufacturer rankings, while its dealers were inside the top ten – way ahead of the prestige guys.
But it's DS that's supposed to be battling the big German premium marques – one hell of a job. Especially as DS next year starts to decouple from Citroen, a brand that sat in the bottom half of our Driver Power dealer and manufacturer rankings.
Tavares is playing the long game, admitting it might take 20 years or more to develop DS. It'll be easier in China where there's an obsession with French style, but elsewhere, it's going to be really tough. Especially with Peugeot breathing down its neck.
Do you think the DS brand can match the German marques? Let us know in the comments below, on Twitter or on Facebook.