Paris Motor Show 2014: news round-up
We round up the best live news, pictures and video from the 2014 Paris Motor Show
The global motor industry has descended on Paris for the 2014 Paris Motor Show, one of the biggest events in the 2014 automotive calendar.
The Mondial de l'Automobile halls are packed with lavish stands hosting the best new production and concept cars that the manufacturers can muster and the Auto Express team were out in force bringing you the latest news, live from the show.
Wth the main press day behind us we're rounding up all our live coverage on this page. Scroll down for the full Paris Motor Show experience with everything you need to know about the production cars, concepts and news stories that made paris 2014 a show to remember.
Paris Motor Show 2014: best cars round-up
We round up the highlights of the 2014 Paris Motor Show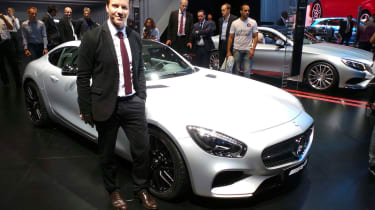 Best cars at Paris Motor Show 2014 - the Auto Express team pick their show starsTop 10 concept cars at the Paris Motor Show - we choose the best concepot cars at this year's eventSeven things we learned at the 2014 Paris Motor Show - some key trends and observations from Paris Top 10 craziest cars at the 2014 Paris Motor Show - weird and wonderful cars from the show
Paris Motor Show video playlist
Video reviews of all the hot cars at the 2014 Paris Motor Show...
Paris Motor Show 2014: the key cars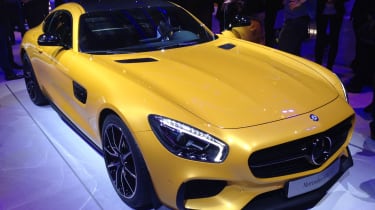 Mercedes AMG GT – Porsche 911-rivaling supercar with a new 4.0-litre Bi-Turbo V8 engine.Mazda MX-5 – The world's favourite roadster arrives in 4th generation form. Jaguar XE – The XE will take on the compact executive elite when it arrives in showrooms next year. Volvo XC90 – Second-generation XC90 SUV is set to be one of the safest cars on the road.Lamborghini Asterion - Lamborghini's new hybrid concept car could be a star of the show.Land Rover Discovery Sport – new baby Land Rover will replace the Freelander when it goes on sale in 2015. Audi TT Sportback concept - Audi is planning a four-door TT.Ferrari 458 Speciale A - The convertible 458 Italia in its hottest Speciale guise.Volkswagen XL Sport - Volkswagen shocked Paris with hot bike-engined version of its XL1 eco-carHonda Civic Type R - Honda shows another concept car that previews the sizzling Honda Civic Type R hot hatch.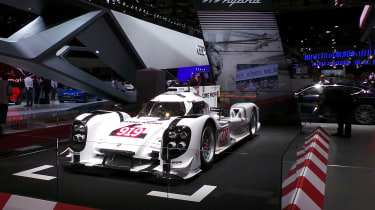 Top news stories from Paris Motor Show 2014
New Vauxhall Corsa VXR to arrive in 2015 - New Vauxhall Corsa VXR hot hatch to arrive by summer 2015 with 200bhp 1.4-litre turbo powerTesla Model D teased - Not strictly a Paris story but Tesla's PR machine chose the show's press day to tease a new model.New SEAT SUV to spawn 'William and Harry' versions - SEAT CEO claims 2016 compact SUV could be joined by a quirky younger brotherHonda Civic Type R could get even more extreme - Type R Hot hatch could cut weight and go faster if there is demandCould the Vauxhall Calibra be coming back? - Vauxhall is considering a new take on the Calibra coupe to add some spice to the current rangeRenault Espace could still come to the UK - Renault's Paris show star could still make it to the UK in right-hand-drive formDS confirms six-car range and faster flagships - Boss of upmarket Citroen's DS brand promises three all-new models.Infiniti Q80 Inspiration Concept to make production - 550bhp Q80 concept car will make it to showrooms '90 per cent' in-tact, according to Infiniti boss.
What's on show at Paris 2014? All the cars and news A to Z by manufacturer
Audi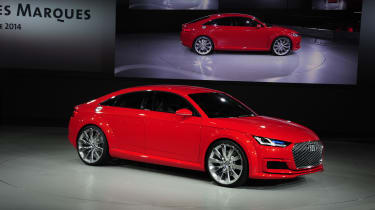 Audi TT Roadster - The Audi TT Roadster will be available to order from mid November (the TTS from early 2015) with first deliveries in Spring 2015. The car features a fully automatic fabric hood and will carry a premium of around £2,200 over the equivalent Coupe.
Audi TT Sportback - Audi's latest niche-buster is a stretched, five-door version of the TT shown in concept form at the Paris show
Audi A6 and S6 facelift - Audi has freshened up its popular A6 executive saloon with a mid-life facelift.
Audi R8 e-tron confirmed with 250-mile range - Audi R&D boss confirms all-electric version of new 2015 R8.
Bentley
Bentley Mulsanne Speed - Bentley is showing a version of the Mulsanne saloon capable of 200mph. It'll stick with the 6.75-litre twin-turbo V8 used in the standard Mulsanne but power will be increased from 505bhp to more like 550bhp.
BMW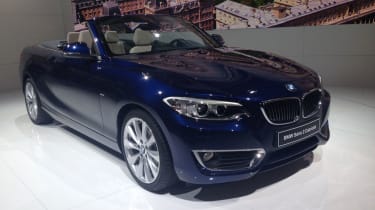 BMW X6 - You've seen the new X5 and now it's the turn of the new BMW X6 coupe crossover to take its turn in the spotlight.
BMW 2 Series Convertible - The replacement for the old 1 Series Convertible, the drop-top 2 Series will offer four engines from launch, the range consisting of the 220i petrol with 184bhp, a 228i with 245bhp, a new 220d diesel engine with 190bhp and, for the first time ever, an M235i Convertible variant with 326bhp.
Citroen DS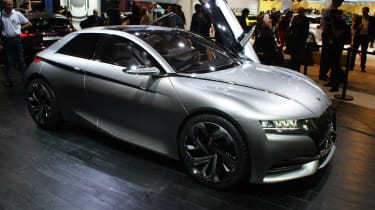 Citroen DS Divine – Newly-independent luxury DS sub-brand is looking to distance itself from Citroen, and this latest concept car – revealed at a special event in Paris at the start of September – gives us an idea of how exactly it'll go about it. Bosses also confirmed a new global six-strong model range.
Citroen C1 Urban Ride - Though officially a concept car, the C1 Urban Ride is very obviously based on the new C1 city car. A production version designed to challenge the Nissan Juke can't be far off.
Citroen C4 Cactus AirFlow 2L - Citroen also has a new super-frugal concept based on the C4 Cactus. Called the Citroen C4 Cactus Airflow 2L, the lightweight, aerodynamic car boasts economy of 2l/100km, which equates to 141mpg.
Ferrari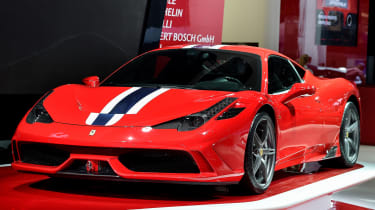 Ferrari 458 Speciale A – A convertible version of the hardcore 458 Speciale spin-off has been revealed.
Ferrari to ramp up production under Marchionne - Ferrari could increase production volumes under the new leadership.
Fiat
Fiat 500X – Fiat will get in on the chunky crossover action with the 500X. It'll retain the iconic face of the supermini but come beefed up and tasked with tackling the Citroen C4 Cactus and Nissan Juke.
Ford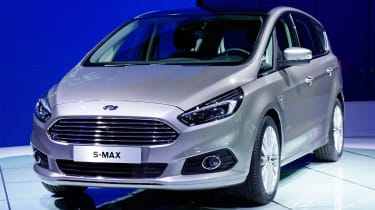 Ford C-MAX – Both the Ford C-MAX and seven-seat Grand C-MAX have received a Focus-inspired facelift, and will go on sale early next year, most likely keeping the current £17,650 starting price.
Ford S-MAX – Ford's all-new S-MAX has a;so taken on styling cues from the Focus and Fiesta, as well as gaining a more practical and safer layout, and can be had from summertime next year for around £24,000.
Honda
Honda Civic Type R - Honda is showing another concept car that previews the sizzling Honda Civic Type R hot hatch. The huge rear wing and electric blue paintjob promise to make it one of the stars of the show.
Honda Jazz prototype – First images of the third-generation Jazz prototype have emerged, with a slight increase in size and a new 1.3-litre i-VTEC petrol engine expected when the production hatch arrives in showrooms next summer.
Honda Civic facelift - Alongside the Type R concept, Honda is showing the latest Civic facelift, including a Sport model that takes cues from the Type-R's styling.
Honda HR-V - Honda is reviving the HR-V nametag with a small crossover based on the Jazz platform. Sharp looks and road-biased handling will put it up against the Juke and Vauxhall Mokka.
Hyundai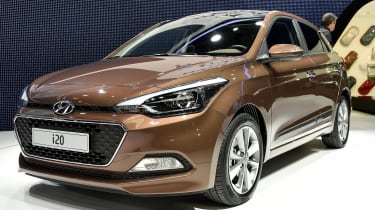 Hyundai i20 – Design cues for the sporty Veloster Coupe will be adopted and the i20 is expected to grow in size slightly.
Infiniti
Infiniti Q80 Inspiration - Nissan's luxury arm Infiniti is looking to expand its range with a luxury four-door coupe to rival the Mercedes CLS, BMW 6 Series Gran Coupe and Audi A7.
Jaguar
Jaguar XE – Revealed at a special event in London at the beginning of September, the XE will become the entry-level Jaguar when it arrives in showrooms next year. The compact executive saloon is likely to start from between £25,000 and £30,000.
Kia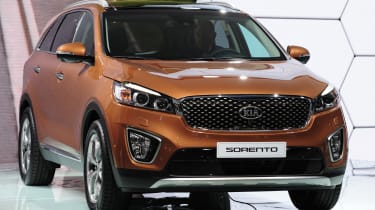 Kia Sorento – It's Kia's best selling SUV and the third-gen model is be bigger than ever. It uses a new platform meaning more interior passenger space and a fresh exterior design should increase its appeal.
Kia Optima T-Hybrid - Kia is showing the diesel hybrid version of the Kia Optima that's capable of running on electric power alone for limited periods.
Kia Rio facelift - The Kia Rio supermini is taking on a bold new look for the 2015 model year. The facelifted supermini includes a restyled grille, new front bumper and fog lights. Three new alloy wheel designs and a new rear bumper complete the makeover.
Kia Venga facelift - The Kia Venga supermini MPV is getting some tweaks. Changes to the exterior include a larger grille with repositioned badge, and a new lower front bumper that combines fog lamps with new LED daytime running lights.
Kia considers a Juke rival - A new supermini-SUV from Kia could be on the way, to sit alongside the existing Soul.
Lamborghini
Lamborghini Asterion - Lambo's 897bhp Asterion plug-in hybrid combines V10 engine with three electric motors for emissions of 98g/km.
Land Rover
Land Rover Discovery Sport – The new baby Land Rover will replace the Freelander when it goes on sale in 2015. The chunky off-roader looks will eventually backed up by JLR's new family of Ingenium four-cylinder engines but not from launch.
Mazda
Mazda MX-5 – The Japanese manufacturer's perennially popular roadster will soon enter its fourth incarnation, using a new SKYACTIV chassis and engine combination.
No plans for a Mazda MX-5 Boxster beater - Mazda has no plans to compete at the more premium end of the sports car market.
Mercedes
Mercedes AMG GT – Porsche 911-rivaling supercar inspired by the outgoing SLS AMG with a new 4.0-litre Bi-Turbo V8 engine. Mercedes is also showing a special Edition 1 launch edition version of the car to get sales going with a bang.
Mercedes AMG C 63 - A name change for the hot C-Class. The new badge follows on from the Mercedes-AMG GT sports car, and it just so happens that the models share the same engine. It's a 4.0-litre V8 twin-turbo unit that produces 469bhp in the standard C 63, but the newly introduced S model upgrade gives you 503bhp.
Mercedes B-Class facelift – Mercedes has revealed the facelifted B-Class with tweaked styling, more tech and an updated engine range.
Mitsubishi
The Mitsubishi Outlander PHEV Concept-S is a more stylish and upmarket version of the standard plug-in hybrid Outlander. the firm could offer it as an optional upgrade package for the standard car, depending on public reaction.
Mitsubishi planning new supermini-SUV - PHEV tech to be introduced across the range, with a rival for the Nissan Juke to follow
Nissan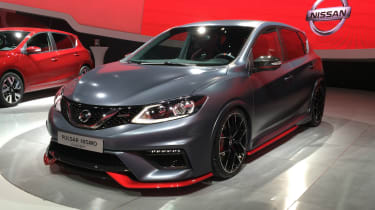 Nissan Pulsar Nismo – Nissan's Golf rival will makes its public debut in Paris. We could also see the high-performance Nismo model, too.
Peugeot
Peugeot Quartz concept - The Peugeot Quartz crossover gives us a glimpse of the next-generation 3008's styling. The high-riding MPV is set to transform into a more of a Qashqai-rivalling premium SUV to chase sales.
Peugeot 208 HybridAir - Peugeot is ploughing ahead with its HYbrid Air technology, and is previewing its latest developments in the 208 hatchback at Paris.
Peugeot 308 GT - It's not the full-blown 308 GTi but the GT warm hatch does add a sporty flavour to the 308 range.
Large SUV for Peugeot, but no more convertibles - Peugeot boss confirms a Quartz-inspired 7-seater SUV could be on the cards
Porsche
Porsche Cayenne facelift - Porsche has updated the Cayenne SUV for 2014, with revised styling, improved engines and more kit.
Renault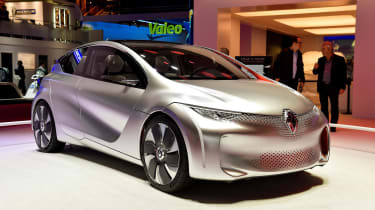 Renault EOLAB concept – Renault's headline act in Paris this year, the EOLAB concept contains over 100 new technical innovations to cut fuel consumptionand can apparently achieve 282mpg.
Renault Espace - The new Renault Espace MPV has adopted some crossover inspired styling cues but it won't be made available in the UK.
Skoda
Skoda Fabia - The new third-gen Fabia hatchback will debut in the metal at this year's Paris Motor Show, complete with a revised, more efficient engine range.
Price pledge on new seven-seat Skoda SUV - Skoda's new seven-seat SUV will rival the Kia Sorento.
Smart
Smart ForTwo and ForFour - Smart is showing what amounts to a completely new model range in Paris with its new city car and supermini offerings.
Electric Smart ForTwo and ForFour due in 2016 - Electric version of all-new city car will get brand new battery technology.
Ssangyong
SsangYong XIV-Air and XIV-Adventure - These near production-ready prototypes preview the upcoming X100, a mini SUV that'll sit below the South Korean manufacturer's Korando and attempt to muscle in on Nissan Juke territory.
SsangYong name change still on the cards - The process of changing SsangYong's name to one with more 'global appeal' is ongoing
Suzuki
Suzuki Vitara – After 25 years Suzuki is returning the Vitara to its compact SUV roots. Based on last year's iV-4 concept, the production model goes on sale in the UK next spring.
Toyota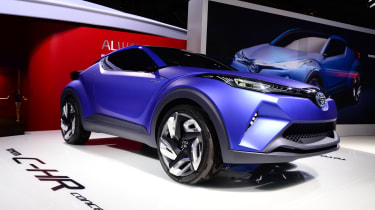 Toyota C-HR Concept - Toyota is showing its entry into the crossover segment with the new C-HR Concept. The car is billed as a rival to the Nissan Qashqai, this high-riding crossover will also employ Toyota's hybrid powertrain technology.
Toyota promises big efficiency gains for next-gen hybrids - Toyota product chief hints more hydrogen fuel cell cars are in the pipeline
Vauxhall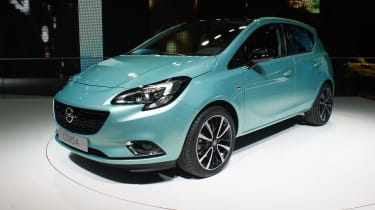 Vauxhall Corsa – It's one of the biggest selling models in the UK and one of many new models being unveiled to the public in Paris. Vauxhall has also confirmed a tuned VXR version will also make production.
Vauxhall Adam S - The Vauxhall Adam is about to get a little hotter. A new 148bhp turbocharged 1.4-litre flagship, called the Adam S, will debut at Paris.
Venturi
Venturi America - French electric sports car brand Venturi debuts the America, a 400bhp jacked-up roadster
Volkswagen
Volkswagen XL Sport - Thought the VW XL1 was bit too economy-focused? Here's a motorbike-engined version called the XL Sport
Volkswagen Golf Alltrack - This is the latest addition to the Volkswagen Golf Mk7 model line-up, the Golf Alltrack. It's a jacked-up version of the Golf Estate with mild off-road styling tweaks and is due on sale next summer.
Volkswagen Passat GTE - Performance meets economy in new Volkswagen Passat GTE hot hybrid. It offers family space with 141mpg economy and 215bhp of raw power.
Volkswagen Polo GTi - The new VW Polo GTI takes on the Fiesta ST with a more powerful 1.8 TSI engine and a six-speed manual gearbox
Volkswagen Tristar - A panel van pick-up concept that previews the look of the next Volkswagen Transporter van
Volvo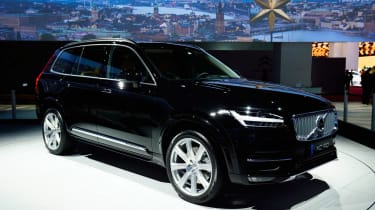 Volvo XC90 – Second-generation SUV will be the first Volvo built on the brand's new Scalable Platform Architecture, and is set to be one of the safest cars on the road.
Paris Motor Show 2014: news feed
The very latest on the Paris Motor Show as it happened from the Auto Express team's Twitter feeds
Paris Motor Show 2014: what happened when?
The packed Paris Motor Show press day schedule was designed to give all the manufacturers their moment in the limelight here's how it shaped up...
Paris Motor Show 2014 dates & tickets
Although Auto Express will be reporting from the show on 2 October, it actually opens to the public on Saturday 4 October, and runs through to the 19th.
Tickets are available to buy from the official website, and cost 14€ for one adult, or 22€ for one adult and one child.
Which do you think is the best car at the 2014 Paris Motor Show? Tell us in the comments section below...