Audi TT Sportback concept revealed
Audi's latest niche-buster is a stretched, five-door version of the TT shown in concept form at the Paris show
Audi is exploring yet another niche at the Paris show with the Audi TT Sportback concept – an elongated, five-door version of the new third-generation TT Coupe. It follows the jacked up, TT-based Audi Allroad Shoting Brake concept from earlier this year and proves Audi is intent on expanding the TT family beyond the Coupe and Roadster to help hit its target of 60 individual models on sale by 2020.
Once again demonstrating the versatility of the VW Group's modular MQB platform, the TT Sportback measures 290mm longer, 60mm wider and has a 120mm longer wheelbase than the TT Coupe. But perhaps a more useful comparison is with the A3 Saloon - the concept measures 23mm longer, 113mm wider and 41mm lower.
A new front-end design, which includes a flatter and wider hexagonal grille, redesigned headlights with a unique criss-cross LED signature and a more rounded lower-bumper treatment separates it from the TT Coupe. But the arrow-straight crease running just above the door handles, the rounded roofline and the bulging wheel arches are pure TT.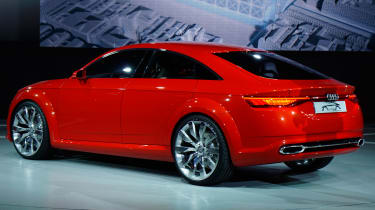 At the rear the slimmer taillights are placed at the extreme edges of the boot lid, rather than wrapping around the corners like the Coupe, while the smaller rear windscreen slopes gently into the small boot lip spoiler.
"With the TT, Audi created one of the automotive design icons of the last 20 years," said Dr Hackenberg, Audi Board Member for Technical Development. "In the years since, we have designed our sporty and elegant five‑door Audi A5 Sportback and Audi A7 Sportback. In our Audi TT Sportback concept show car, we are now fusing both concepts to form a new member of a potential TT family."
Frameless doors swing open to reveal an interior is lifted straight from the TT Coupe (in the front at least), with the same 12.3-inch virtual cockpit display behind the wheel and bulls eye vents with digital control panels built in. In the rear there's two individual rear seats, split by an armrest, that can be folded down to expand the boot.
Power comes from a 394bhp 2.0 four-cylinder TFSI engine – a detuned version of the engine first shown in the TT quattro Sport concept at the Geneva show in March. Genrating its maximum power at 6,400rpm, and maximum torque of 450Nm between 2,400 and 6,000rpm, it sends power to all four wheels via a seven-speed S tronic dual-clutch gearbox. Fuel consumption and CO2 emissions are quoted as 40.4mpg and 162g/km, with a 0-62mph time of 3.9 seconds.