Toyota C-HR Concept arrives at the Paris Motor Show
Muscular C-HR Concept features Toyota's new face and hybrid powertrain. Previews a Toyota rival for the Qashqai.
Toyota has previewed its entry into the crossover segment with the new C-HR Concept unveiled at the Paris Motor Show. The C-HR is billed as a rival to the Nissan Qashqai, this high-riding crossover will also employ Toyota's hybrid powertrain technology.
As well as previewing a production car, the C-HR also displays a new diamond-style design language. It's set to appear on future Toyota models, and on the C-HR a far more sculpted and angular theme is apparent – far removed from any current model in the Toyota range.
At the front, narrow LED headlights merge with the grille and stretch the width of the car, while vertical LED daytime running lights emphasise the C-HR Concept's elevated ride height.
We've previously seen spy shots of Toyota testing a jacked-up version of the Auris, and it would seem logical that the upcoming crossover would become part of the Auris family. The new arrival is also expected to occupy the vacant spot below the RAV4 in the Toyota range.
Further details on the future Qashqai rival are scarce but, unsurprisingly, given Toyota's supremacy in the hybrid market, the C-HR will use the manufacturer's technological know-how and be fitted with a petrol-electric powertrain.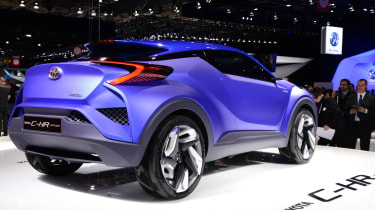 The hybrid system is likely to be a new development and could be the same set-up that will be used in the next-generation Toyota Prius, which will arrive next year.
It's also believed that Toyota is developing this powertrain so it can adopt four-wheel drive. Given the C-HR's intended audience and closest rivals, it's a feature we can expect to see made available on the production version.
It's a little too early to speculate how much the showroom version of the C-HR will cost, but it is expected to arrive in 2017.
Click here to see what else is at the Paris Motor Show...