New Vauxhall Corsa unveiled at Paris Motor Show
The Vauxhall Corsa has been revealed at the Paris Motor Show and we've got all the details
Vauxhall's all-new 4th generation Vauxhall Corsa supermini has debuted at the 2014 Paris Motor Show, with first deliveries starting in January 2015.
• We've driven the new Vauxhall Corsa in the UK - click here for the full review
The Corsa range will include three and five-door hatchbacks powered by a line-up of economical petrol and diesel engines with Vauxhall also confirming that a VXR hot hatch variant will be offered. Prices are expected to be broadly equivalent to the current Vauxhall Corsa.
When GM has consistently been selling close to 85,000 Vauxhall Corsa models annually in the UK for the past few years, you wonder if there's a need to launch a replacement.
But the company has listened intently to its customers and kept the things they like the same – the dimensions and basic shape – while working hard on improving the things they criticised, such as the ride, handling and interior quality. We joined Vauxhall's small car brand manager, Ian Mitchell, for an exclusive tour of the car...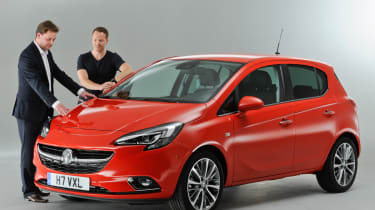 Vauxhall's high hopes for the new Corsa
From the outset, it's clear that Vauxhall is setting its sights high. "We wanted it to have the ride quality of a Polo, but to be as fun to drive as a Fiesta – if you hit those benchmarks you've cracked it, and we believe we have," said Mitchell.
"We've been pretty consistent with Corsa sales for the past few years. Clearly we have aspirations to grow our volume; we want to go at the Fiesta, which sells around 120,000, and steal some of its volume."
Vauxhall Corsa 2015: new car or facelift?
The basic chassis architecture of this fourth-generation Corsa is the same as its predecessor's, so exterior and interior dimensions are identical, give or take a few millimetres, but every exterior panel is new. Led by Brit Mark Adams, Vauxhall's design team has taken various style cues from the brand's latest models and distilled them into a supermini shape.
For example, the trapezoidal grille is from the Adam, along with the 'brand bar' running across it. LED daytime running lights are standard on most models and take on a more exaggerated, wing-like 'eyebrow' shape than on the Astra, while the foglights mimic the Cascada.
The front end and bonnet are lower, for pedestrian protection, and feature a scalloped indent also borrowed from the Adam. In profile, the familiar 'blade' crease runs just above the sills and is joined by a sharp crease above the door handles, which stretches all the way back to the sculpted tail-lights.
New Vauxhall Corsa interior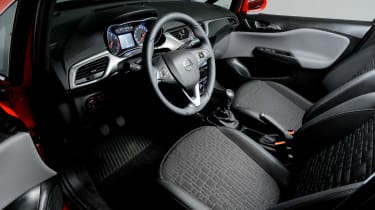 Interior space may have stayed the same, as has the 285-litre boot, but every part of the instrument panel and dashboard is completely new. Again, the inspiration comes from the Adam, with a seven-inch colour touchscreen taking centre stage.
Available with this IntelliLink infotainment system on all but the most basic models, it can be connected up to Apple or Android smartphones and allows users to download sat-nav and Internet radio apps, as well as use Siri voice control. The overall look and feel inside is miles away from the current car's dated cabin, thanks to a lack of clutter and soft ambient lighting.
We'll have to wait a while before we deliver a definitive verdict on the interior quality, though – this pre-production car was still wearing bare, untextured plastics in some areas.
Vauxhall Corsa 2014: updates and upgrades
The model we photographed was a five-door – designed to be the more sophisticated model in the new line-up – while the three-door is more differentiated than before. The sales split is expected to be 60 per cent three-door and 40 per cent five-door. Historically, retail customers buy more three-doors and fleet customers go for the five-door, while the retail to fleet split is predicted to be around 50:50 – identical to the current car.
A reinforced, stiffer front sub-frame and new front suspension geometry, plus a new speed-sensitive electric power-steering system, have been designed to sharpen the handling and provide more front-end bite. Two types of suspension – comfort and sport – will also be offered. We drove a prototype (below) and the changes have had a positive impact – there are even specific steering settings for UK cars to account for our unique roads.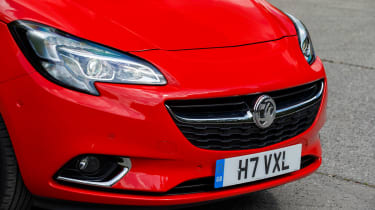 Vauxhall Corsa 2015: engine range
Under the bonnet, the big story is the new 1.0 three-cylinder ECOTEC engine. "People used to associate engine size with power, but not any more," Mitchell explained. "It's actually got balancer shafts so it's smoother than the 1.4."
The direct-injection turbo will offer 89bhp or 113bhp – both giving 170Nm of torque – with a six-speed manual box, while a new six-speed auto is optional on selected engines. Start/Stop tech is standard and, in three-door guise, the lower-powered model can hit 54.7mpg, with sub-100g/km to be expected (matching the Fiesta 1.0 EcoBoost).
The entry-level engine will be a 69bhp 1.2-litre petrol, while turbo and non-turbo 1.4s offer 99bhp and 89bhp respectively. The 1.3 CDTi will continue with 74bhp or 94bhp, now hitting as little as 85g/km CO2 and capable of 87.8mpg. An ecoFLEX version will be available from launch, too, with target CO2 emissions of under 90g/km.
New Vauxhall Corsa prices & specs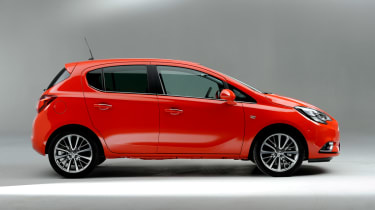 Exact equipment levels are currently under wraps, but premium features like Hill Start Assist, a heated windscreen and a city assist button (to increase assistance on the electric power-steering at low speeds) will be standard across the range. All Corsas also get ESP, tyre pressure monitors and all engines comply with Euro VI emissions rules.
Other available kit includes bi-xenon headlights with LED daytime running lights, a rear parking camera, and Advanced Park Assist. There's also an optional forward facing camera for road sign recognition, blind spot alert, high beam assistance and autobraking.
Prices and full spec details on the seven UK trim levels will be revealed on October 2nd, with first deliveries in January. And unlike some makers who drip feed the full range, Vauxhall will offer every trim level and engine from launch. Plus, Mitchell said prices will be "aggressive", adding: "At this end of the market you have to offer customers exactly what they want or they'll go elsewhere."
Vauxhall Corsa 3-door is go, too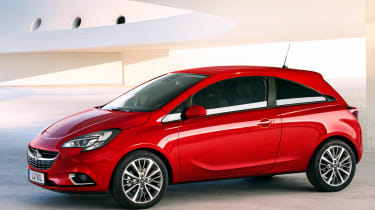 Unlike previous versions of the Corsa, there will be a distinct design difference between the three and five-door models, as Vauxhall targets a different set of customers for each.
Mark Adams, vice president of Opel/Vauxhall design, showed us around the latest model and explained some of the key differences between the cars.
"The three-door car is a sportier solution," Adams said. "There is more fluidity to it. It looks like the Astra GTC, with the shoulder line and the blade signature that's used on all of our cars in some form."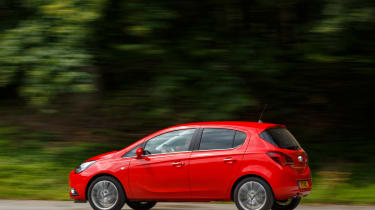 The rear window line is the biggest difference, with a sleeker finish coming to a sharp point, while on the five-door this is rounder. The shoulder line Adams refers to gives it a more aggressive look than the five-door car.
Inside the three-door there will be the option of a colour strip right across the dashboard, which Adams says is another part of giving this version a younger feel.
But despite appealing to a younger market, Adams explained the Corsa wouldn't go as far on the personalisation front as the Adam. "That's what that car [Adam] is there for," he said. "There will be some [personalisation] – interior accents and a chrome bar on the grille."
VXR set to turn up heat with 197bhp
Vauxhall has confirmed a new Corsa VXR is being developed, too. "We'd like to do one; there's such a following for it, we'd be crazy not to do it," said small car brand manager Ian Mitchell. "You might see something next year."
• Best hot hatchbacks to buy now
A 197bhp version of Vauxhall's new 1.6 direct-injection turbo is likely under the bonnet – the current VXR has 189bhp – with room to produce more potent versions later in the car's life.
New Vauxhall Corsa prototype: driving dynamics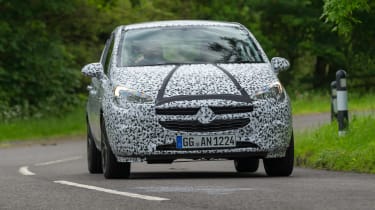 When we took a Vauxhall Corsa prototype car for a spin, early signs were good. The completely revised suspension means the Corsa rides bumps with a gentle thump rather a crash, even on the 17-inch alloys and with the lower stiffer sports suspension of our SRi-spec prototype.
The electric power steering has been completely retuned, too, with a more relaxed ratio for the lesser models, and a sharper calibration for sportier SRi versions. According to Vauxhall's head of advanced vehicle dynamics Michael Harder the focus was to make the car react quicker just off centre, and because of our twisty B-roads, UK cars get unique tuning that's even sharper than the rest of Europe.
What do you think of the new Vauxhall Corsa? Join the debate in the comments section below...