Peugeot Quartz concept makes its debut in Paris
Striking Peugeot Quartz crossover concept previews next-generation 3008 at the Paris Motor Show
Peugeot has revealed the Quartz concept at the Paris Motor Show – and the sporty crossover gives us a glimpse of the next-generation 3008's styling. The high-riding MPV is set to transform into more of a Qashqai-rivalling premium crossover SUV to chase sales.
Based on the same EMP2 platform that underpins the Peugeot 308, the Quartz is styled using Peugeot's latest design language, which first debuted on the Exalt concept at the Beijing Motor Show. That means huge intakes, sharp edges, an upright 3D grille and chiselled headlights.
A shallow window line and steeply raked rear screen – complete with a split spoiler – reveal the Quartz to have the sporty proportions of models like the Range Rover Evoque or BMW X4. At 4,500mm long, it sits somewhere between the Evoque and X4 in terms of size. It's also about 100mm longer than a Qashqai.
The interior is a development of the clean and simple i-Cockpit found in the 308. Peugeot has kept the amount of buttons and switches to a minimum, while drivers get information through a head-up display. The compact steering wheel has controls for the indicators, driving modes and gearshifts, and materials like leather, composites and basalt give the cabin a luxurious finish.
Power comes from a plug-in hybrid drivetrain, which combines a Peugeot Sport-developed 1.6-litre turbo with two electric motors – one on each axle. The front axle is driven by the 266bhp engine and 114bhp motor, while the rear axle is powered by the other 114bhp motor. Altogether, Peugeot says the Quartz has 493bhp and can travel around 30 miles on a single charge.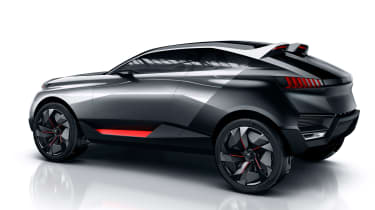 As well as torque vectoring and McPherson strut front suspension to improve handling, Peugeot has fitted adjustable springs that can adapt ground clearance from 300 to 350mm. Cameras mounted at the front of the car are linked to the sat-nav, to ensure the suspension is set up for the road ahead.
As for the Quartz's influence on the next 3008, Peugeot CEO Maxime Picat told Auto Express at the Beijing Motor Show that the SUV-inspired design is due in part to the influence of the Chinese market. According to Picat, buyers there don't know what a crossover is. "Clearly the next 3008 will be more influenced by the Chinese market," he said. "The exterior will have to look more like an SUV than a crossover."
Don't expect to see the carbon fibre body or 493bhp powertrain of the Quartz on board, but a plug-in hybrid version is almost certain, as is a simplified and high-quality cabin inspired by that on show here.
The next-generation Peugeot 3008 is likely to arrive in 2016, with prices starting from around £18,000.