New Peugeot Exalt concept car for Paris Motor Show
A new version of the Peugeot Exalt concept car will be revealed in Paris, featuring some cosmetic tweaks
The Peugeot Exalt concept was originally revealed at the Beijing Motor Show earlier this year, but the brand is giving us another look at a European version of the car.
The changes for the new version of the Exalt, set to be shown at the Paris Motor Show, include a new livery on the outside and a slightly different interior finish. The rear of the car is clad in grey 'Shark Skin' texture rather than the distinctive red that appeared on the Chinese version, giving the car a more subtle look, and the interior features a 'Newspaper Wood' finish.
A pantograph mechanism is fitted to the car's tailgate, which improves the amount that the boot can open without compromising the body shape. The mechanism means there's access to a foldaway electric scooter called the HYbrid-kick Concept that's stored below the boot floor. Probably a good idea in the city, as the Exalt concept is 4.7 metres long and features huge 20-inch alloy wheels.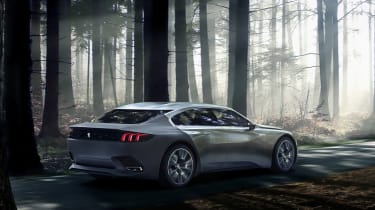 It might look like a coupe, but the Exalt is actually a large saloon car. The concept picks up where the Onyx concept left off, with a sleek set of body panels that are hand-beaten. The materials used are supposed to convey recycling and local sourcing.
It's likely that the design cues seen on the concept car will start to appear on future Peugeot models, and the aerodynamic shape helps to save fuel.
Another part of Peugeot's future is the Hybrid4 powertrain, which develops a total of 335bhp through a combination of a 266bhp 1.6-litre four-cylinder petrol engine and an 89bhp electric motor mounted on the rear axle. The system also adapts to particular driver inputs by switching from pure electric, petrol only and petrol-electric hybrid.
Maxime Picat, Peugeot Brand Chief Executive Officer, said: "Peugeot's 125-year automobile history is punctuated by models that made a mark on their era. With the Exalt Concept, the Brand has reasserted its position and opened a new chapter. We are moving forward, resolutely, with confidence."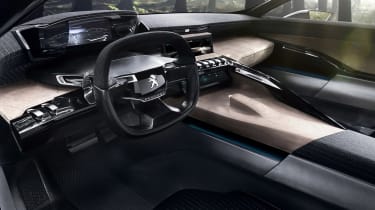 The interior of the Exalt uses the i-Cockpit layout that's seen in the 308 production car, though it's pushed to the limit of luxury in this concept car. The steering wheel is trimmed in leather and 'chine', with a digital instrument panel directly above it.
The huge centre console stretches through the centre of the car, with two screens emerging from the dashboard. One screen displays the navigation system, and the the other presents controls for the automatic air-conditioning and the surface-purifying Pure Blue system.
What do you think of this new version of the Exalt? Is this an improvement? Tell us in the comments section below...