Peugeot Exalt concept hints at brand's future styling direction
Peugeot has unveiled its sleek new EXALT concept car at the 2014 Beijing Motor Show
Peugeot has given us a glimpse into its vision for future models with the new EXALT concept car. The striking coupe made its debut at the Beijing Motor Show and could even make it to production as a China-only saloon.
Speaking to Auto Express at the Beijing Show, Peugeot general director Maxime Picat said: "This kind of saloon segment is really key, and so is the SUV segment." Picat went on to reveal that Peugeot was considering an SUV larger than any currently in the range but that anything below the 2008 crossover wasn't feasible.
Despite the svelte coupe styling, Peugeot has dubbed the EXALT as a five-door. The concept picks up where the Onyx concept left off last year, with chiseled panels, a long bonnet and short rear overhangs. The bare steel bodywork has also been hand-formed by a master panel beater, while the rear quarter has been trimmed in a shark skin inspired material.
Modern-day Peugeot styling cues can be found in the headlamps and front grille, with the Exalt giving a much more believable look at the path Peugeot's future production cars will be taking – both in terms of design and technology.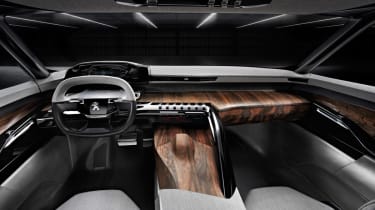 The EXALT uses a development of the i-Cockpit interior layout first seen in the 308 hatchback. The small wheel is trimmed in leather and 'chine', a natural wool-based mixed fabric, with the digital instrument panel positioned above it. Lightweight carbon fibre has also been ditch in favor of basalt fibre, which can be found on parts of the seats, dashboard and door cards.
The extended centre console stretches through the centre of the car, with two folding touch screens emerging from the dashboard. The upper screen gives access to the navigation systems and on board computer, while the second screen presents controls for the automatic air conditioning and the surface purifying Pure Blue system.
Another part of Peugeot's future is the next-generation Hybrid4 powertrain, which the French manufacturer has fitted to the EXALT. It develops a total of 335bhp through a combination of a 266bhp 1.6-litre four-cylinder petrol engine and an 89bhp electric motor mounted on the rear axle. The system also adapts to particular driver inputs by switching from pure electric, petrol only and petrol-electric hybrid.
What do you think of the EXALT? Is this an improvement on the looks of current Peugeots? Tell us in the comments section below...