Peugeot Onyx First Ride
We sample the stunning Peugeot Onyx concept car from the passenger seat as it runs up the hill at Goodwood Festival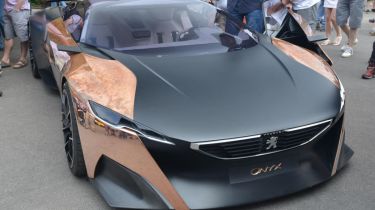 Most concept cars never turn a wheel in anger - so to have one that not only runs but also offers the searing performance of a Le Man racer is a real asset to Peugeot. The power of the racing drivetrain is every bit as impressive as the stunning styling so it's just a shame that the Onyx (or something like it) will never see the light of day and for now it remains a glimpse of what the company might do in the future.
Peugeot wanted to use the Goodwood Festival that there is more to their concept cars than just stylish design so the Peugeot Onyx concept that was first seen at the Paris motor show made an appearance in the supercar run up the hill route.
Auto Express was given the exclusive opportunity to take a ride in the first supercar run of the weekend and the Onyx managed to overshadow plenty of exotic supercars from established premium marques.
Underneath the pretty carbon fibre and cooper body the Onyx is essentially a 908 HDi Le Mans car with a full sequential racing gearbox, mid-mounted 3.7-litre V8 diesel engine and racing brakes and dampers.
That means that before we set off oil for the entire system has to be heated to 80 degrees and fed intravenously into the engine like a blood transfusion. The team from Peugeot Sport removed the carbon fibre 20-inch alloy wheels to run the engine as the oil if filtered slowly inside and that gave us a chance to get accustomed with the incredible interior.
Made from assorted recycled materials including wood made from newspaper pulp and felt the seats are moulded into the floor with in-built six-point racing harnesses which hold you in place extremely well. When the thick doors are closed you feel completely cocooned and with the sun beating down the cabin heats up incredibly quickly.
There is hardly any steering lock so there are a few tricky turns before we line up at the start of the hill climb and our test driver Gregory Guilvert has to be careful to balance the heavy motorsport clutch. The engine is incredibly loud and every single piece of trim inside the plush cabin vibrates heavily every time he drops the clutch.
Once the flag drops and we accelerate rapidly towards the first corner the noise settles down and after a few quick inputs to warm the brakes and the massive tyres the Onyx feels planted and grippy as it winds around the narrow course.
Sadly our run is over all too soon but the Onyx is doing a great job of grabbing Peugeot headlines at a show normally dominated by the likes of Ferrari and Porsche and along with the 208 T16 Pikes Peak car it is one of the star's of this year's Festival of Speed.