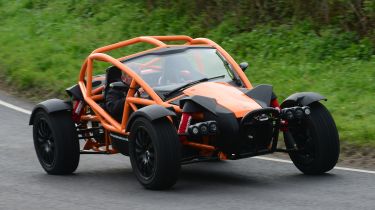 The Nomad, like the Atom before it, is a work of rare genius, no question about that. In many ways it's even better to drive than it is to look at, managing to be softer and more liveable with, but still with the razor sharp responses that the Atom is famous for. Ultimately it's a toy, but if you have the space to use it properly, it's like nothing else out there.
The first thing you do when you see the extraordinary new Ariel Nomad in the flesh is smile. You look at its chunkier new open gauge crash structure and its brilliantly garish orange and black paintwork, and you think; I bet that thing's hilarious to drive.
And I can tell you here and now that you'd be right. On the road the Nomad, with its beefed up suspension and chunky new 18-inch wheels and tyres (the standard wheel size is 15-inch but the car we drove wears the optional and deeply sexy 18-inch upgrade), is an absolute scream to drive. And off road, which is where it's been designed to go in the first place, it is even better still.