Abarth Punto vs Corsa SRi
We see if the first product of the reborn Abarth brand can deliver a knock-out blow – as the Punto meets Vauxhall's Corsa SRi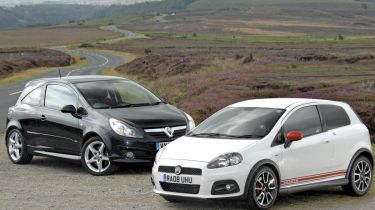 What's the perfect car for tackling the twists and turns of a British B-road? Forget about costly supercars and sports saloons – drivers who are on a tighter budget can have just as much fun with the new breed of junior hot hatches.
As these models are small, agile and affordable, you can enjoy more of their performance, more of the time. And that gives them bags of appeal.
But the hot supermini scenery is about to change, thanks to the revival of a famous racing name from the past. Fiat's Abarth tuning division is making a comeback, and the first car the scorpion-badged brand has got its claws into is the Grande Punto.
The newcomer features a turbocharged 1.4-litre engine, stiffer suspension and a host of racy cosmetic goodies to liven up the popular Fiat supermini. Abarth enjoyed its heyday during the Fifties and Sixties, so has the rejuvenated brand managed to find its magic touch again?
We took the three-door to the North Yorkshire Moors to face a homegrown rival from Vauxhall. The SRi logo has featured on a string of popular models since it debuted in the Eighties, and the latest Corsa version was tuned specifically for UK buyers.
A powerful turbocharged 1.6-litre engine and revised suspension settings should make twisty tarmac its natural habitat. With a range of sporty features designed to enhance driver appeal, plus solid Corsa underpinnings, it poses a formidable challenge to the new Grande Punto.
So, does the Italian offering have a sting in its tail, or will the Vauxhall triumph? We find out in one of the hot hatch match-ups of the year...
Verdict
Fun, affordability and style are must-haves if you're looking for a junior hot hatch. The Corsa is our favourite supermini in standard trim, and the turbo SRi has the upper hand when it comes to outright speed. But it doesn't win this test.
Uncompromising suspension and an awkward gearshift take the fun out of the Vauxhall – a sin in this sector. Its unforgiving set-up leaves you wearing a grimace more often than a smile.
The Abarth takes the victory thanks to its greater all-round talents. While the suspension is comfortable in everyday driving, at the same time, it helps the car serve up far more driver entertainment than the extreme Vauxhall.
The Grande Punto is cheaper to buy, better equipped and has much more character. True, the Sport Boost button is a gimmick and the dealer network limited, but the Abarth marks a great return to form for the Italian brand.