Ducati-powered Volkswagen XL Sport revealed in Paris
Thought the VW XL1 was bit too economy-focused? Here's a motorbike-engined version called the XL Sport
Volkswagen has revealed a surprise concept car on the eve of the Paris Motor Show, called the VW XL Sport.
Based on the 313mpg XL1 production car, this new model had less of an economy focus, boasting a 197bhp V2 powertrain borrowed from motorcycle manufacturer Ducati and a seven-speed DSG dual-clutch automatic gearbox. The engine only has 130Nm of torque, but a reduction gear between the engine and DSG gearbox slows engine speed and boosts torque to 250Nm – making the car much easier to drive on the road.
The XL Sport is purely a one-off to show what's possible by mixing technology from cars and bikes – there are no plans to build it at the moment.
As well as its performance-focused engine, the XL Sport gains a wider body, a tweaked chassis and wider tracks to help improve stability and grip. Certain aspects of the car have been completely redesigned to allow the new powertrain, too.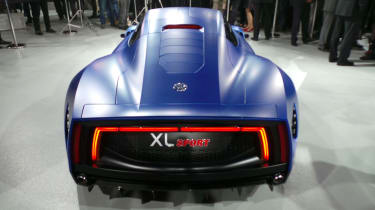 Its aerodynamic shape and low kerbweight, originally developed to achieve big economy figures, have allowed for seriously impressive performance here. Volkswagen says the XL Sport has a top speed of 167mph and can go from 0-62mph in just 5.7 seconds. The motorcycle engine, which features titanium connecting rods and magnesium alloys, revs to more than 11,000rpm – so it will be unlike almost any other car on the road to drive.
The interior is changed slightly, too, boasting a digital instrument cluster specially designed for motorsport, plus decorative red stitching and aluminium shift paddles.
With the announcement of the XL Sport came the news that the VW Group had just produced its 200 millionth car, and the company said that this concept just so happened to be the 200 millionth car to roll off the production line.
Get all our live coverage of the 2014 Paris Motor Show