Peugeot's groundbreaking Hybrid Air tech returns in Paris
New Peugeot 208 HYbrid Air concept debuts at Paris Motor Show, as the French brand targets 141mpg by 2020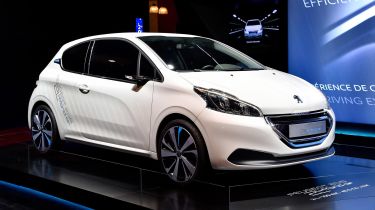 Peugeot is ploughing ahead with its HYbrid Air technology, and has shown its latest developments in the 208 hatchback at the Paris Motor Show.
This latest concept, unsurprisingly dubbed the 208 HYbrid Air 2L, has its sights set on meeting the French government's goal of putting an affordable 2.0l/100km (141mpg) car into production by 2020.
Central to this aim is the HYbrid Air drivetrain itself – as driven by Auto Express back in July – which uses compressed air rather than expensive batteries to boost a small capacity petrol engine.
There are three available modes, one using compressed air only for zero emissions (ideal around town), another that makes use of the 81bhp 1.2-litre PureTech engine alone (suited to motorway cruising), or a petrol-air combination.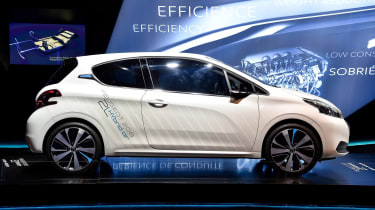 A monitoring system selects the best setting for the circumstances, displaying all information to the driver. As with more conventional hybrids, the system works in purely electric mode for as long as possible, switching when either the 'charge' (or in this case, air) is depleted, or when more acceleration is needed.
Recharging follows a similarly familiar process: slowing down under braking or by easing off the throttle helps recover energy, with the three-cylinder petrol engine also able to kick in and provide a boost.
Backing this compressed air system up in the 208 HYbrid Air 2L, Peugeot has worked on the smoothness of its PureTech unit, as friction accounts for around a fifth of the power generated. By covering the camshafts and pistons in a so-called Diamond Like Carbon (DLC) coating, engine efficiency is apparently improved by four percent.
The concept's weight is down, too, compared to the production 208 it's based on. A mixture of steel, aluminium, and composites were used for the platform and body, alongside a redesign for certain existing parts like the stainless steel exhaust system, resulting in a loss of 100kg and reducing the overall kerbweight to 860kg.
Rounding off the changes are a few tweaks to improve the 208 Hybrid Air's aerodynamics, including a lower stance and air intakes that allow just enough air into the engine. Peugeot has also smoothed out the windscreen surround, added a bootlid-mounted spoiler and fitted an air extractor below the car. Finally, conventional wing mirrors make way for cameras and there are large-diameter, low rolling resistance tyres with aero hub caps.
Find out about the best hybrid cars you can buy now...