Seven things we learned at the 2014 Paris Motor Show
The Paris Motor Show has taught us many things about cars in 2014 - here are some of them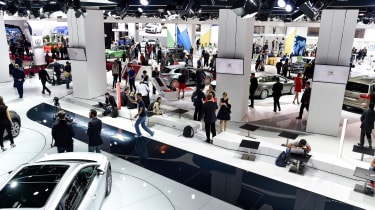 We've learned a great deal at the 2014 Paris Motor Show. The beans have been spilled on the latest new cars, the executives have tipped us off about how the future is shaping up and we've gained an overarching feel for the state of the industry as a whole.
That's not all, though. Our eagle eyes also picked up on a number of other interesting observations and trends that appeared to be afoot in the show halls and beyond. This is what else we learned at Paris 2014...
The crossover boom just keeps on booming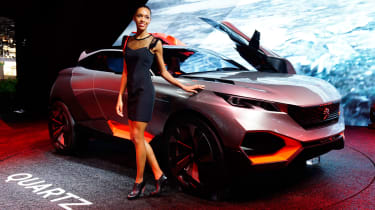 Ever since Nissan trundled out a small, unashamedly road-biased SUV called the Qashqai and the term crossover was coined, the rest of the world's car manufacturers have been rushing to get in on the act.
If you thought every car brand that could reasonably build a crossover had already built one, Paris Motor Show was a sobering chance to think again.
Toyota, Peugeot, Citroen, SsangYong, Honda, Fiat and Jeep all showed small cars and concepts with 4x4 overtones while Kia and Mitsubishi revealed crossover plans in the pipeline. The industry looks set to continue banking on the insatiable demand amongst the world's motorists for cars that are a bit chunkier and slightly taller.
Fiat is the Fiat 500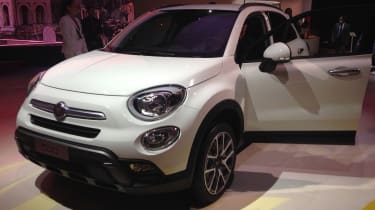 No car manufacturer can be blamed for backing a winning horse but Fiat appears to be betting its house, car and extensive wardrobe of shiny Italian suits on the 500. A wander through the Fiat stand at Paris revealed that virtually every single car on show was a derivative of the loveable retro city car.
You can get standard Fiat 500, a sporty Fiat 500, a family-sized Fiat 500, a seven-seat Fiat 500, a Fiat 500 that's a bit like a crossover and, now the 500X has shown up, a Fiat 500 that is a crossover. There are other Fiats but you wouldn't know from the firm's Paris stand; a little diversification wouldn't go amiss.
Green tech can save the sports car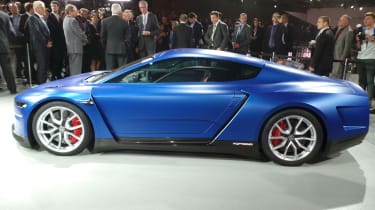 It's routinely accepted that if carmakers are to keep building gorgeous, absurdly powerful road rockets for our viewing and driving pleasure they'll have to employ compromise measures to keep emissions in check.
Sure enough, Paris brought its fair share of performance cars designed to be fun and (moderately) green. Lamborghini's Asterion hybrid, Volkswagen's lightweight XL Sport and Venturi's 400bhp all-electric America all more or less fall into that category.
What's changed is the lack of dissenting voices who think true sports cars must have an untamed V8 with an exhaust output that could choke a Koala bear at 100 paces. The public seem to be increasingly accepting the greener direction our automotive objects of desire must move in to survive. Now that's progress.
Blue is the colour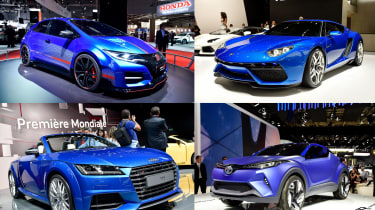 There's a certain shade of dark blue that's known as 'doom blue' among car dealers for its ability to smother the delicate lines of the most beautiful car, turning it into an unsalable amorphous blob.
It isn't that blue that's cropped up time and time again on the Paris Motor Show's star cars but a particular shade of mid blue, sometimes with a hint of purple, has been an unusual favourite hue on the stands this year.
Just see the Honda Civic Type-R concept, Lamborghini's Asterion, Skoda's Fabia, the VW XL Sport, Peugeot's 308 GT, the Toyota C-HR and others for evidence of these moody blues creeping in. Trends like this tend to escalate too so it may be time to embrace the fact that your next car could also be a blue one.
MPG is getting silly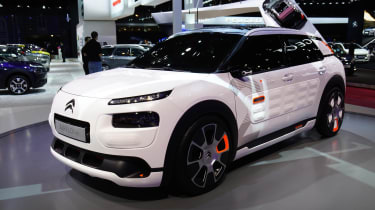 A court case in Italy recently brought the issue of unachievable car mpg figures back to the forefront of everyone's thinking and the Paris Motor Show was awash with cars claiming mind-blowing returns from a thimble full of unleaded.
Citroen's Cactus Airflow 2L offers 141mpg with its 'air hybrid' tech, the Volkswagen Passat GTE hybrid will do the same and Renault's EOLAB concept is said to do 282mpg! Will you be able to get close to those figures in the real world? As two of the cars are concepts we probably won't get the chance to find out but these lofty numbers are emblematic of official mpg figures loosing all meaning to the motorist in the street.
It's not the manufacturers' fault, though. The official tests ought to be tightened up and standardised to bring their results closer to what motorists can reasonably expect to achieve. Then we might take motor show stand mpg figures more seriously.
JLR has bottomless promotional pockets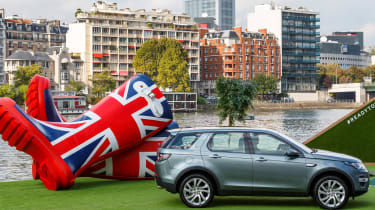 Jaguar chose to launch its XE compact executive saloon at an improbably complex and costly event in London a few weeks prior to Paris. The Land Rover Discovery Sport too had its own lavish launch ceremony long before the Paris show. Was that enough for JLR?
No it wasn't. The Indian-backed firm put its hand in its giant publicity pocket again to finance an 80-metre barge, complete with mocked-up rolling hills and giant Union Jack wellies, which it sailed up the river Seine to trumpet the Discovery Sport's arrival in France.
Wellington boots, of course, take their name from a certain Duke who made his in a famous military run-in with the French. A fact which may not have escaped the attention of some Parisians. We're sure the inclusion of the boots was merely coincidental.
The motor show is not dead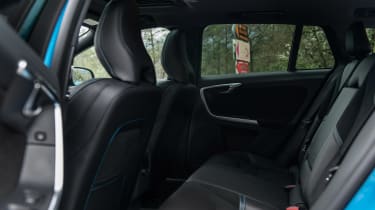 The naysayers may have been saying nay with increasing volume in recent years but Paris 2014 showed that there's life in the old international motor show yet.
It's true that the key cars at Paris (Discovery Sport, MX-5, XE, XC90) had already been revealed in full at lavish pre-motor show extravaganzas where the relevant manufacturer publicity machines could guarantee the undivided attention of the world's press. It's also true that full details of 99% of the other models been given to the press long before the covers came off in Paris.
So what was the point in the world's media descending on the French capital, other than the excellent croissants? The fact is that Paris brought the global car industry, its top executives and latest products, together into one place. It creates the opportunity for the media to do a several months worth of news gathering in one (exhausting) day.
The big cars were already out but Paris was a chance to put meat on the bones of those stories and get a heads-up from the top brass on what's coming next. And of course, there's always one or two genuine old-school surprises from manufacturers bold enough to gamble on grabbing the press day limelight. Volkswagen did it with the XL Sport and might just have inspired a few other brands to chance their arm next time.
Find out all about the best cars at the 2014 Paris Motor Show