Efficient Citroen C4 Cactus Airflow 2L makes its debut
Citroen reveals new ultra-efficient C4 Cactus Airflow 2L, with economy reaching 141mpg
Citroen's stand at the Paris Motor Show features a new super-frugal concept based on the C4 Cactus. Called the Citroen C4 Cactus Airflow 2L, the lightweight, aerodynamic car boasts economy of 2l/100km, which equates to 141mpg.
Currently, the cleanest Cactus is the 1.6 BlueHDi model, capable of 91.1mpg – so how has Citroen gone about such drastic improvements to that economy? It's taken the three-cylinder 1.2-litre PureTech engine from the Cactus line-up and paired it to HybridAir technology, which uses compressed air rather than electricity stored in batteries to drive the wheels.
That alone cuts fuel consumption by 30 per cent, but Citroen has then fitted a special bodykit and wheels to improve aerodynamics by 20 per cent. The front bumper features air intakes that automatically open or close, while shutters in the wheel can be opened or closed depending on how much cooling the brakes need.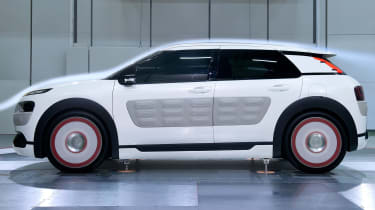 The Airflow also benefits from the usual aerodynamic tricks, like small cameras in place of wing mirrors and a completely flat undertray.
Citroen has managed to strip 100kg from the Cactus' kerbweight as well – an impressive feat considering it's already 200kg lighter than a standard C4 hatch. That's done through carbon composites for the springs, bootlid, rear bench, side panels, wings, doors and roof. In addition, more aluminium and high-strength steels were used throughout.
Finally, the powertrain has been optimised for use in this car. As well as the HybridAir system, Citroen has used a new carbon coating in the engine, to reduce friction, and new low viscosity oil. With a few other measures in place, the engine's efficiency is improved by 5 per cent.
The C4 Cactus AirFlow 2L concept is Citroen's response to an initiative in France to get an affordable 141mpg car on sale by 2020.