Citroen Divine DS concept appears at Paris show
Citroen has revealed the Divine DS concept at the Paris Motor Show, hinting at a new look for the DS range
The Citroen DS division is looking to mark itself out from the Citroen brand, and this latest concept car – Divine DS – gives us an idea of how exactly it'll go about it. It's on display at the Paris Motor Show following its debut there.
The two brands are already completely separate in China, and the fact there's no Citroen badging on this car is the clearest indication that the same is planned for Europe, too.
The Divine DS is not based on any existing car and doesn't preview any future model; instead, it's said to point to the styling of the future DS range. A large, diamond pattern grille, complete with a chrome surround flowing into the headlights, gives the Divine DS a look completely separate from anything in the Citroen line-up.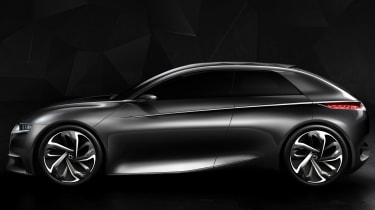 DS describes the interior as being customisable to the needs of customers – buyers can choose from three interchangeable 'ambiences'. Male uses natural carbon fibre and leather, while Parisienne Chic has ivory leather, silk satin and crystals. The Fatale Punk version has black padded leather and Swarovski Crystal Fabric, embedded with millions of tiny crystals.
As well as luxury and design, DS is pushing its technological know-how on the Divine, which features laser indicators and a holographic display.
"Divine DS is an expression of our expertise," said DS brand CEO, Yves Bonnefont. "This concept car is the very essence of what DS is and what it will be. A perfect alliance between sophistication and technology. Unveiled just a few weeks after the birth of the brand, Divine DS perfectly expresses the unique personality of DS."
Power comes from a 1.6-litre turbo, producing 270bhp. Citroen says that as well as delivering impressive performance, the Divine DS complies with Euro VI emissions rules and emits just 145g/km of CO2.
Can the DS brand successfully split itself off from Citroen? Is this the right move for the French marque's luxury arm? Let us know what you think...