Top 10 concept cars at the 2014 Paris Motor Show
The most intriguing designs and techno showcases making waves at this year's Paris Motor Show
Motor shows always provide us with a stream of new models that will soon be available to buy, but  it's usually the surprising and interesting concepts that really impress the crowds. We've picked out 10 of the best concepts on display at the Paris Motor Show 2014 for you to enjoy. Let us know in the comments, or on Facebook or Twitter, which are your favourites!
Infiniti Q80 Inspiration
Infiniti shocked us all with this Q80 concept – we expected a sporty 4x4 concept to hint at the QX70's replacement, and instead Nissan's luxury offshoot stunned Paris with an enormous traditional saloon, pointing to a rival for the Mercedes S-Class and Porsche Panamera.
The 543bhp hybrid's design mixes hints of Jaguar XJ with Infiniti's own polarising cues, but the shield-shaped rear window and 22-inch wheels are stand-out details. The interior is refreshingly minimalist, featuring huge swatches of Alcantara and leather, and four quilted seats.
If Infiniti is ever to challenge the European elite in the manner Lexus has, a flagship limo borrowing elements from the imposing Q80 would be an ideal place to start.
Lamborghini Asterion LPI-910
Most concept cars drape stunning bodies over ordinary (or even non-existent) mechanicals, but it's the powertrain that's the real story with the Lamborghini Asterion – notwithstanding its stunning two-seat body that melds Miura, Jalpa and Huracan elements beautifully.
Under the skin, the Asterion combines the Huracan's 602bhp V10 with twin electric motors to deliver a McLaren P1-matching 906bhp. Like the Porsche 918 Spyder, it's all-wheel drive, and can run for up to 31 miles on pure electric power.
Lamborghini is very late to the hybrid hypercar party, and has chosen to do something very different to Ferrari, Porsche and McLaren – a super-hybrid GT tourer, rather than an out-and-out speed machine. With parent company Audi promising a plug-in hybrid e-tron version of every model, expect this best-of-both-worlds tech in a road-legal Lambo very soon.
Audi TT Sportback
A five-door TT is controversial for those who want to see Audi's two-door set apart from the rest of the swelling range, but with Audi promising a 60-model range by 2020, every niche that can be filled is getting a new car. The TT Sportback deserves some credit for not being another crossover SUV, however.
Audi hinted at a TT-Q with the TT Offroad concept at the 2014 Beijing show, yet this Sportback proves we're not doomed to a future where there'll be no alternative choice if you can't stomach a tall-riding soft-roader with a sports car's nameplate.
VW XL Sport
Proving that Volkswagen has a sense of humour, that buying Ducati wasn't purely a bean-counter's decision and that the W12 and Bluesport weren't the last we've seen of VW sports cars, the XL Sport is a real Paris star.
Wider tracks and intakes add menace to the XL1's 22nd century shape, and screaming Ducati Panigale power means huge performance, too: VW claims 200bhp, 11,000rpm and a 167mph top speed. A fitting way to celebrate passing the milestone of building its 200 millionth car.
Divine DS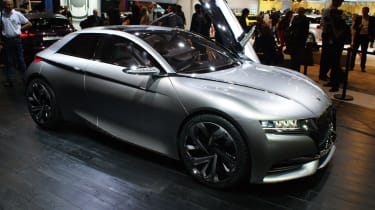 The Divine DS is a huge car for Citroen because, ironically, it shows how the posh DS offshoot is going to break away from Citroen and forge its own path to rival Audi and VW.
Partnership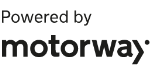 Need to sell your car?
Find your best offer from over 5,000+ dealers. It's that easy.
Up until now, the DS range has erred from occupying the same niches as the regular Citroen line-up, offering the DS4, DS5 and the very chic DS3, where Citroen only has the forgettable C3. But the Desire, which features no Citroen badging whatsoever, is a traditional five-door family hatchback, under all its creases, edges, coach doors and boutique interior touches.
A 270bhp punch hints at high-performance variants to come, while laser indicators and a holographic projection display inside point to another DS that pushes technological boundaries – just as the original DS did back in the fifties.
Renault EOLAB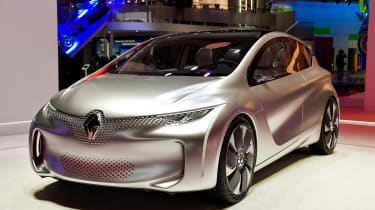 The French are leading the way with viable super-eco cars of late – there was the Peugeot 208 Hybrid FE, Citroen's got the C4 Cactus Airflow at Paris, but top of the heap is this 282mpg hybrid EOLAB from Renault.
It's very light, at less than 1,000kg, has a three-cylinder turbo and electric drive, a drag coefficient to shame a nuclear submarine and, most importantly, Renault says the EOLAB isn't just a pipedream. By 2020, recognisable elements of this car's design will be in showroom models, making your next Megane far cheaper to run. If anything, that means the EOLAB is a more important, if less exotic, hybrid hero than the Lamborghini Asterion.
Peugeot Quartz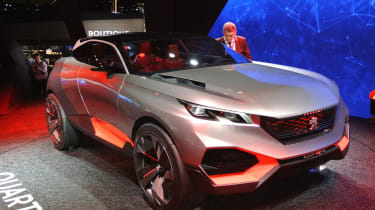 Peugeot's been on a roll of late with its concepts, and the Quartz crossover continues that run. It's powered by the outrageous 270bhp 1.6-litre turbo engine from the RCZ R coupe, allied with two 114bhp electric motors. The result is a combined power output of 500bhp-plus, and performance to embarrass a Porsche Macan Turbo.
The styling is equally interesting, though – ditch the 23-inch wheels and smooth out the details, and you're looking at Peugeot's new Nissan Qashqai rival. See more details of the car, including exclusive artist's impressions of the production version, in this week's issue of Auto Express.
Honda Civic Type R
The Honda Civic Type R has been a long time coming, which means it looks the closest to production of any of these concept cars. Sporting an eye-searing blue paintjob for Paris, the new Type R will develop in excess of 276bhp, have a six-speed manual gearbox, adaptive ride control and a mechanical limited-slip front differential.
Honda has also confirmed the car will have a variable personality, courtesy of a '+R' button on the steering wheel which ramps up all of the car's responses. As long as Honda has the guts to make next year's roadgoing version look as lary, the wait will have been worth it.
Toyota CH-R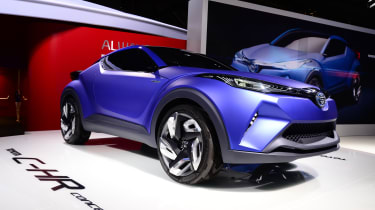 At long last, Toyota wakes up to the trend of small crossovers, and gives us the CH-R – a squat and funky looking hybrid crossover that's pitched at the Nissan Qashqai and Kia Soul.
The hybrid drivetrain is reportedly a development of what we'll see in the next-generation Toyota Prius, but you'll have to wait until 2017 before Toyota finally injects some youth appeal into its range and brings the car you see here to UK showrooms.
Nissan Pulsar Nismo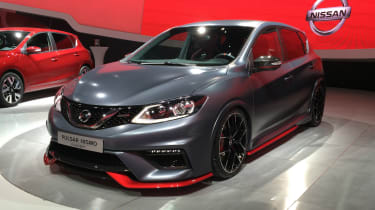 It's further away from showrooms than its Honda Civic Type R rival, but the hot Nissan Pulsar Nismo nevertheless merits a mention because it looks sensational. Wider tracks, 19-inch alloys and a low-slung bodykit featuring central exhausts and a diffuser have given the drab regular Pulsar real menace.
Auto Express understands there'll be two production versions – a Pulsar Nismo with the 215bhp 1.6-litre turbo engine from the Juke Nismo RS, and a higher-powered version with a limited-slip front differential that's aiming to snatch the Nurburgring lap record for front-wheel-drive road cars.