2012 Infiniti FX revealed
The Infiniti FX has been updated for 2012 with a fresher look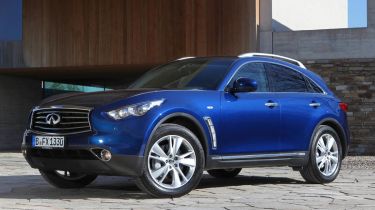 The Infiniti FX has been treated to a minor update for 2012. The changes focus on the exterior, with a new grille surround similar to the 2009 Essence concept car, plus new 20-inch alloy wheel designs for the GT and GT Premium models.
The minor facelift also brings new colours, including Iridium Blue, a new Scratch Shield colour that's exclusive to the FX.
There are no mechanical changes to the range, which starts with FX37 GT and is capped by the FX50S Premium. Standard equipment is also the same, with all cars coming loaded with kit - the only options are metallic paint and a multimedia pack for basic cars, the latter is standard on GT and S Premium models.
The special edition Infiniti FX Vettel Version is also available to order. Only 200 will be made, but Infiniti has yet to release full details of the special edition, although it will be powered by a tuned version of the 5.0-litre V8 from the FX50.
Prices remain unchanged over the 2011 model, with the 2012 Infiniti FX range on sale now from £46,750.