Jaguar Classic unveils bespoke Greatest Hits XJ6 at Geneva
One-off XJ6 saloon celebrates 50 years of the Jaguar XJ, and was created for Iron Maiden drummer Nicko McBrain
Not content with building continuation E-Types and D-Types, Jaguar Classic has now built the ultimate XJ to celebrate the saloon's 50th birthday. The XJ Greatest Hits is based on a 1984 XJ6 Series 3 owned by Iron Maiden drummer Nicko McBrain, and the car has been restored and modified to Nicko's specification with the help of the staff at Jaguar Classic and Jaguar Design's Wayne Burgess.
Revealed at the Geneva Motor Show, over 3,500 man hours have been put into the car, and it features plenty of bespoke kit. The bodywork has been modified with new bumpers front and rear, with the car finished with a deep mauve metallic paint. There are recessed fuel fillers either side of the boot, LED headlights with unique halo running lights, and chrome trim taken from the earlier Series 2 XJ6 to finish off the exterior look.
• Latest news from the 2018 Geneva Motor Show
Unique flared wheelarches cover bespoke 18-inch wire wheels and Pirelli P Zero tyres, and under the bonnet is a modified version of Jag's ubiquitous XK series straight-six. This has been upgraded with a set of three SU carburettors and a specially designed exhaust system.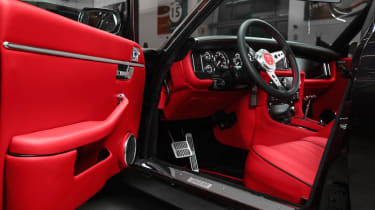 Inside, the Jag includes a hand-crafted interior that features red leather, dark grey stained Sycamore veneers and a black Alcantara headlining. A 1,100W sound system taken from the Jaguar XF is also fitted, with all mod cons. There's a special 'Eddie' growler, modelled on Iron Maiden's famous mascot, for the bespoke three-spoke steering wheel. Meanwhile, drum pedals replace the conventional items in the driver's footwell and machined aluminium knobs have been added to the dashboard.
Speaking about the car, McBrain said: "This is my ultimate XJ – my third, and lovingly named 'Johnny 3'. It has been a true labour of love between Jaguar Classic and myself. I'm so excited by its completion and especially to be showing it at Geneva – it really is a Greatest Hits edition and to me it defines what the Jaguar XJ is all about. It's a credit to the craftsmanship of the Jaguar Classic team. We couldn't have timed it better, this being the 50th anniversary of XJ – my favourite of all Jaguars."
Get the latest Geneva Motor Show news here...