Kia cars to drive off and park themselves within 5 years
Autonomous self-parking tech will be available on new Kias by 2021 and we've seen it in action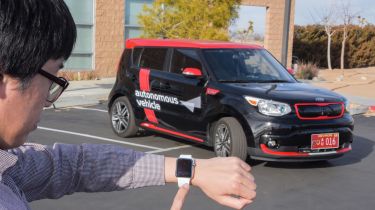 Automatic valet parking will be available on new Kia models from 2021 as the South Korean firm moves closer to its target of a fully autonomous car by 2030.
The auto-parking tech is currently being tested on a Kia Soul EV and we jumped in the passenger seat to try it out at Kia's Central Advanced Research and Engineering Institute on the outskirts of Seoul.
Activated via a mobile app or smart key, the Soul uses a range of RADAR and LiDAR cameras to navigate to a nearby parking garage before finding an empty space to park in.
• Everything you need to know about driverless cars
The technology allows you to turn up at the door of your office, hop out and send your car off to park on its own before collecting it at the end of the day. We stayed in the vehicle for our parking test to see how it got on, although we left the driver seat empty so we weren't tempted to take over control.
There was really no need, though, as it drove from outside on the street and down into a basement car park, before reversing into a bay. It even paused to straighten up.
One of the biggest restrictions to the roll-out of the auto valet parking is the requirement to have car parks electronically mapped. This could mean it's limited to office car parks or large public lots at first.
• Tesla Autopilot 8.0 to boost safety
This Soul EV is just one of 20 models Kia is currently testing around the world under its Drive Wise sub brand that was launched last year. The firm has invested billions into the development of sensors and radars as well as vehicle-to-infrastructure tech as it looks to become a "global leader" for autonomous driving.
The model also features traffic jam assist and auto lane change with Kia promising this type of functionality on partially autonomous models from 2020 – the same year it expects to have a mass-produced FCEV for sale.
And while some manufacturers claim they'll have a fully autonomous car available within the next five years, Kia remains set on a longer 2030 goal. Senior research engineer Jeongwoo Lee added: "Customer acceptance and liability will be challenging."
Would you like a car that can park itself? Let us know in the comments...