KTM plans to build new X-Bow for motorsport
Bike and track-car maker KTM will be teaming up with Reiter Engineering to build an all-new X-Bow racer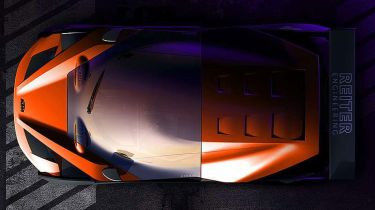 KTM is famous around the world as a motorbike maker which made a memorable foray into the car world with the track-focused X-Bow, but the Austrian company now plans to join forces with German racing outfit Reiter Engineering to build a new racing car, as shown in this official teaser image.
The hardcore X-Bow was KTM's first car, but by partnering with Reiter Engineering (a company responsible for various GT1 and GT3 racers), it will now attempt to make its mark all over again. The new track car has been designed to compete in race series around the world.
This official image doesn't give much away, but shows a radically different car to the current roofless X-Bow – although some familar styling traits at the front remain. The enclosed-cockpit racer is likely to get a new, more powerful engine, if the rear ventilation panel is anything to go by.
Details are scarce as yet, but Reiter Engineeering will be handling "construction of the vehicle and all of the logistics, including sales and supply of spare parts". KTM has its own X-Bow race series that may be extended with this car, although private race teams will be the primary customers.
Team owner Hans Reiter, whose firm originally presented the idea to KTM, said: "Now is the ideal time to introduce a revolutionary new vehicle concept into international customer motorsport." Expect to see the new racer in action across Europe, Asia and the US in the next few years.
Now check out our best track day cars of 2014