Military lightweight
Buyer's guide to the military spec Land Rover you'll want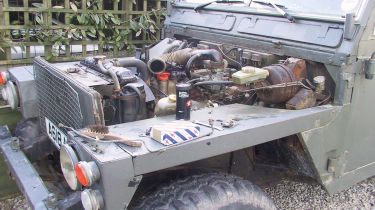 The Lightweight Land Rover was originally designed as an air-portable vehicle for the armed forces, based on the Series IIA and Series III Land Rovers of the time, and known militarily as the Half Ton. The IIA version can be recognised by its headlamps in the grille, and the Series III type by its wing-mounted headlamps. The running gear is similar to that of the Series vehicles, though not the body sections. UK versions have the same 2.25-litre petrol engine, though many have been retro-fitted with V8 Rover, Ford V6 units and Tdi engines. Compared to a regular Series II or III, Lightweight versions are even more spartan inside.
What to check
The chassis and bulkhead are subject to similar corrosion problems as standard Series Land Rovers. But the bulkhead is complex and difficult to repair, so inspect carefully. Check all the body panels because, if damaged or badly corroded, replacements can be difficult to get hold of. Check leaf springs for rust building up between leaves, and the usual Series swivel housings for leaks and surface corrosion. Axle assemblies and leaf spring rates differ slightly, but standard parts can be fitted. The Lightweight's shorter axle shafts can be replaced with standard shafts and corresponding parts.
Reasons to buy
It's different, it's very military in its standard colours and it's a practical and DIY-friendly Land Rover sharing many mechanical parts with the civilian Series Land Rovers. Replacement bulkheads are available.
Problems
If looking for an original military vehicle, discount any that have non-standard engines fitted. Some parts can be difficult to locate, including original-rate leaf springs and military tyre fitments.
Specifications
2.25-litre four-cylinder petrol, 77 bhp, 124 lb-ft torque; selectable 4WD.
Price guide
Poor: £600 – £1000Average: £1,000 – £1,5000Good: £1,500 – £3,500Excellent: £3,500 – £8,000