How to secure your Defender
As Defender thefts rise owners should be beefing up on security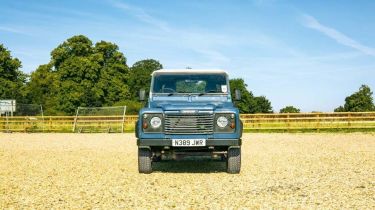 Since production of the much-loved Defender was discontinued in January, it is now among the top five most stolen cars in the UK. With the model rapidly gaining classic status and rising in value they have become more attractive to thieves, and owners of both old and new Defenders should be extra vigilant and more security savvy. Here are a few simple tips and tricks to keep your pride and joy from getting into the wrong hands.
1. Identification technology
The Datatag Security Identification System is specifically designed for Land Rovers and uses state-of-the-art identification technologies such as RFID transponders and invisible UV etching to the paintwork which is virtually impossible to remove. These sophisticated Thatcham approved systems are easy to install and offer lifetime protection with no monthly charges. Currently available at a limited time offer of £99. 
Price: £149 (RRP)Web: www.datatag.co.uk 
2. Pedal lock
Security pedal locks provide additional security over alarms and immobilisers which can be easily bypassed. Unlike other products on the market the bright yellow, heavy duty pedal locks from Iris Solutions feature an additional panel to prevent access from the side and bending the pedal lock or cutting pedals off.
Price: £118.80 (RRP)Web: www.lrisolutions.co.uk 
3. Sky tag
The Skytag device (DA9012) is a small covert unit designed to be installed and hidden in the vehicle by the owner. Smaller than a computer mouse, it contains a GPS chip that can pin-point its location to within five metres. The device also contains a module that communicates the car's position via the GPRS data network. The device has an in built backup battery that lasts three days should the vehicle battery be disconnected and Skytag can detect when the vehicle battery is running low, also includes a monthly health check. To find your nearest stockist go to the website. 
Price: £119Web: www.britpart.com
4. Steering lock
Fit a steering lock such as the X-Column Lock Protector (DA9013) from BritPart – a broken column steering lock is found on virtually all stolen Land Rovers, allowing it to be started with a screwdriver! This steel sleeve for the lock barrel is strong enough to prevent the barrel being removed or the end broken off. To find your nearest stockist go to the website. 
Price: £105Web: www.britpart.com
5. Tracking systems
This GPS/GSM based motion sensor security system will activate and alert the user the moment any disturbance is detected in the vehicle. Movements without the key in the ignition, forced entry through doors or windows, or if your vehicle leaves a predetermined geo-zone, will all trigger the device. Their product is unique because it combines monitoring and other various features that are controlled via their personalised mobile app. 
Price: £195 (for unit)Web: www.defenderdefender.co.uk 
DIY mods
Mark your parts and windows with an International Security Register (ISR) security marking kit to ease the chances of a vehicle being recovered and identified. Install a well-hidden kill switch to disrupt the flow of electricity at the battery or ignition switch or disable the fuel pump to deter thieves. Secure your accessories and ensure they remain firmly on your Land Rover with tamper proof nuts and bolts, and protect valuable wheels and tyres with a locking wheel nut kit. 
Tips & tricks - Cyberhood watch 
If your Defender has been stolen, FunRover.com features a stolen Land Rover section where you can list details of your vehicle for free. The Defender community is incredibly close knit and friendly and this is a great way to bring awareness to a group of fellow nationwide owners. Please do support the community and those who have had their prized possessions stolen and keep your eyes out for any of the cars on the missing list. http://funrover.com/stolen
Common sense
If possible keep your vehicle parked in a garage or a secure area which is well lit. Remove all items of value, never leave keys in the ignition and keep keys out of sight at home and when out in public areas. Take photos of any modifications, additional parts or unusual features which could aid identification of the vehicle if stolen.