Next generation Lexus model to be previewed by groundbreaking concept
A new all-electric Lexus is due in 2026 and is set to be previewed by a concept car confirmed by a teaser image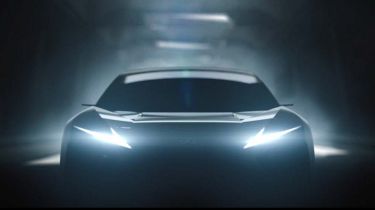 Once considered behind the curve when it comes to EV development, Lexus - and by extension Toyota - is preparing to reveal a groundbreaking concept that might see it leap to the forefront of the class. Due to be revealed on October 28 at the Tokyo Mobility Show, the concept will directly preview a new production model due in 2026. 
So far, Lexus has only teased us with a dimly lit image revealing a typical lighting signature on a car's nose, but it's expected that the new model will feature a Prius-like monovolume body. This should be both aerodynamically optimised and take full advantage of the packaging benefits unlocked by the application of pure EV powertrains.
Lexus is claiming that this new concept previews not just a new generation of battery technology, but also fundamentally changes the way the Japanese giant designs and builds its electric vehicles. Lexus says its new batteries will be able to provide up to a 620-mile cruising range. As well as this, a greater integration of the model's software platform will further improve efficiencies within the drive system. 
As proven by companies like Tesla, true blue-sky thinking about how EVs are designed and built is already yielding impressive results, both in the consumer experience and the profit margins generated. By changing the way Lexus thinks about everything from packaging to manufacturing, this new concept could point towards real progress in Lexus' EV development. 
This is only just one part of Lexus' bold EV development plans, with a production version of the Electrified Sport Concept also in the works that could see elements like a virtual manual transmission and solid state battery technology reach the road down the road.
Want the latest car news in your inbox? Sign up to the free Auto Express email newsletter...