New Lotus Elise Sport and Sport 220 bring price & weight cuts
Lotus brings back 'Sport' badge to Elise range for 2016, with new lightweight parts and a reduced price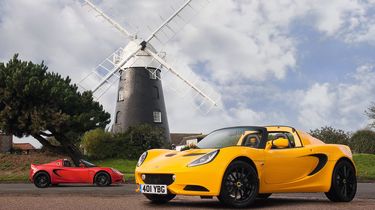 Lotus has announced a handful of changes to its Elise sports car range. The existing Elise and Elise S trims will be replaced in December by Elise Sport and Elise Sport 220 respectively - with a price cut, too.
Lotus justifies bringing back the 'Sport' badge (last seen on the Esprit over 20 years ago) with weight saving measures, extra equipment options and a lower price. The Sport kicks off at £29,900 (£1000 less than before), while the Sport 220 is £36,500 (a drop of £700).
As the price drops, kerbweight also falls slightly with a 10kg reduction on both variants; the Sport is now just 866kg, while the Sport 220 is 914kg. That's largely due to new featherweight sports seats, a thinner battery and other minor alterations. Lightweight forged alloys can also be added to shave another 5kg, and climate control, air-con and an uprated sound system are also on the options list.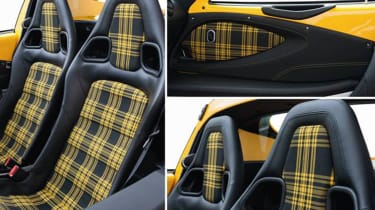 Previously optional, but now standard on both, is a Sport mode that improves throttle response and lowers the traction control threshold for greater driver involvement. Buyers can even opt for a new tartan seat trim - a throwback to the dazzling interior options for the '70s Esprit.
Performance is unaltered, with the Sport receiving the same 134bhp 1.6-litre engine taking it from 0-62mph in 6.5 seconds and on to 127mph. The Sport 220 still has 217bhp from a 1.8-litre unit, hitting 0-62mph in 4.2 seconds and 145mph flat out. Fuel economy is slightly improved, with the Sport managing 45mpg and the Sport 220 37.7mpg combined (0.2mpg more than before).
Would you buy a car in 2015 with yellow tartan seats? Let us know why below...