Lynk & Co to launch two new cars a year until 2020
Innovative Volvo sister company to launch a range of new models, with full EVs and long range hybrids in the pipeline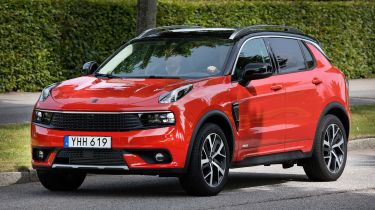 Lynk & Co plans to launch up to six new models within the next five years, with hybrid and fully electric vehicles a priority, according to company bosses.
The newly launched brand, owned by Chinese firm Geely, has just put its first car – the 01 SUV – on sale in China. But more models are in the pipeline, with the majority likely to be based on Volvo's Compact Modular Architecture.
"We will launch two new cars a year until 2020," Vice President Alain Visser told Auto Express. "Up to five or six in total - when we go global by 2020, we want to be selling 500,000 cars a year."
Following the 01 will be a smaller crossover, called the 02, due to launch in China next year and Europe in 2020. Then we will see a saloon dubbed to 03, with a larger SUV, a youth-oriented small car and high-end executive model expected to follow. It's not clear yet whether Lynk & Co intends to enter the sports car market, however.
Head of Design for Lynk & Co Peter Horbury elaborated further, stating the brand will offer "a complete mix of bodystyles". He went on to say that, with the financial backing of Geely, there are "plenty of opportunities to expand".
"We are not ruling out any bodystyles at this moment. There is room to look at something more youthful, more sporty – we're seeing customers around 22 or 23 years old coming in to buy a new car now".
Lynk & Co will launch in Europe with only hybrid and plug-in hybrid models available; no diesels will be offered in any market. Chief Engineer Mats Fagerhag revealed that a fully electric model is an "absolutely a priority".
"The CMA platform was designed from the start with electrification in mind. It's a very modular and flexible platform, and allows us to fit more and larger batteries to increase range". According to Fagerhag range-extending EVs will also be offered, with a small petrol engine removing range anxiety and increasing the distance between charges further.
Lynk & Co's first model, the 01, has exceeded early expectations in China, with a pre-sale allowance of 6,000 models selling out in just over two minutes online.
Would you consider buying a car from Lynk & Co when they arrive in Europe? Let us know in the comments section...