Mazda CX-3 Racing concept revealed in Tokyo
This sporty Mazda CX-3 Racing concept could hint at a future hot CX-3 MPS model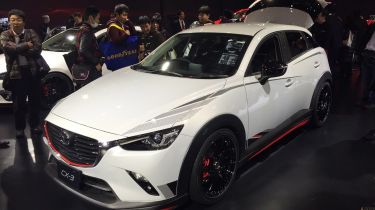 The Detroit Motor Show kicked off on Monday, but that wasn't the only show stealing headlines this week – as doors opened at the Tokyo Auto Salon, in Japan, too.
One of the most exciting models on show was the Mazda CX-3 Racing concept. Although officially a preview of some sporty CX-3 accessories, it could hint at a hot CX-3 MPS.
One spokesman revealed: "While I can't say that much, I will say that we are planning to make some sporty versions of the CX-3 and Mazda 2, and maybe one or two others. The CX-3's spoilers, side skirts, coloured accents and larger wheels and tyres all point in the direction we want these Racing concepts to go in."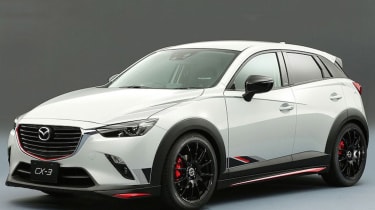 But when asked about the potential of tweaked performance and suspension settings, he wouldn't give much away. He did hint that the sporty CX-3 would be petrol, rather than diesel powered, though.
"Even with 4WD, don't expect us to produce a CX-3 racing concept with a diesel engine," he said.
Expect to see a fully reworked production version of the CX-3 on the Mazda stand at this year's Tokyo Motor Show in October. As for exports to the UK, our source couldn't confirm or deny anything.
Would you consider buying a rival to the Nissan Juke Nismo? What do you think about the prospect of a souped-up CX-3?