McLaren 650S (2014-2017) review
The 650S is a faster version of the 12C supercar, designed to take on the Ferrari 458 Speciale and Lamborghini Huracan
The new McLaren 650S is essentially a facelift for McLaren's first mid-engined supercar, the 12C. Launched at the Geneva Motor Show in 2014, the 650S brings in technology and styling elements borrowed from the P1 hypercar.
These include a new front-end with curved LED headlights, bigger air intakes and new carbon fibre details on the doors and inserts in the rear bumper. The 3.8-litre twin-turbo V8 engine has been fettled to produce even more power and torque than before and the handling has been tweaked thanks to new tyres, stiffer spring rates and dampers and a revised ESP system.
The 650S is available as both a coupe and a Spider convertible and costs £20,000 more than the old 12C – but comes with more equipment as standard, so McLaren say it's better value as well.
Engines, performance and drive
There are very few cars that could keep up with the sheer pace of the McLaren 650S. Its engine features new cylinder heads and pistons, higher boost pressure for the twin turbos and power is up from 616bhp to 641bhp. There is more torque too – 678Nm to be exact – which is about 137Nm more than you'd get in the naturally aspirated Ferrari 458 Speciale.
On the road, this ballistic level of performance delivers the kind of acceleration that only a few drivers will be able to access on the public roads. It does 0-100mph in 5.7 seconds, which is only 0.7 seconds slower than the significantly more powerful P1.
On track there is more grip and downforce than you get in the 12C and the stiffer suspension makes it even more responsive when using the 'Track' mode on the ProActive Chassis Control (PCC) system.
The steering is sharper and heavier than before, but the 650S is still wonderfully easy to drive fast, thanks to a stunning amount of grip and stability. Despite the hardcore focus the new damper mounts mean the ride is still very comfortable for a car of this type, and it takes crests, bumps and potholes in its stride – despite the ultra-low carbon nose.
MPG, CO2 and Running Costs
Owning and running a supercar is a ruinously expensive business, whichever one you go for but McLaren has actually managed to make the more powerful 650S a bit kinder on its fuel tank than the 12C.
An average combined figure of 24.2mpg is still not much to write home about, and neither is the 275g/km CO2 stats, however both figures are better than anything its supercar rivals can manage – with the possible exception of the Porsche 911 Turbo S.
Ferrari offers its owners seven years of free servicing, but McLaren will still charge you for the pleasure, and consumables like tyres, brakes and fluids will all cost a lot more with the 650S than they would on an ordinary car.
Interior, design and technology
McLaren took criticism from some people who saw the 12C as too ordinary or at least underwhelming, so the 650S is deliberately aimed at silencing those doubters.
The new nose is taken directly from the P1 – with bigger side vents, wider air intakes feeding a new set of radiators and those sharply curved full LED headlights. There are four new colours as well as more carbon fibre trim options, and when combined, the overall effect is a car that is certainly more striking than its predecessor was.
Twin-spoke lightweight forged alloys are now standard, and inside, the interior comes with soft alcantara lining on the dash, roof, and seats, which looks great and helps the car feel more track oriented inside. New optional fixed-back racing bucket seats cost £5,000 but help to save 15kgs in weight, and are also based on the seats in the P1.
Visibility is still exceptional for a supercar, but for us, the drop-top Spider is still the model to go for. It looks even more striking than the coupe and despite the open roof it has the same 0-62mph as its fixed roofed relation.
Practicality, comfort and boot space
Practicality is another area that supercars normally struggle with but the Mclaren 650S is also a lot more practical than you might think. There is a deep and wide boot in the nose that can carry at least two large weekend bags or small suitcases, and the Spider has an extra space for small items behind the two flying buttresses where the roof is normally stowed.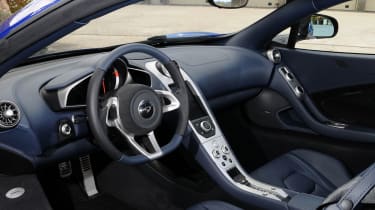 Inside the car though there is very little room for loose items – with no glovebox and just a small pocket and shelf between the two seats for important documents or small soft items. It does come with a reversing camera (which you never got on the 12C) and the option of an electric steering column that automatically pulls out of the way for easier entry and exit.
The scissor doors open both upwards and outwards, so you need to be careful when parking the 650S to leave enough space for them to swing. As mentioned earlier though, rear visibility is very good and the comfortable ride means the 650S can deal with rough roads better than the vast majority of supercars. There is also a button that raises or lowers the nose to allow you to ride over speed bumps when driving through city centres.
McLaren does not have a great reputation for mechanical reliability, and early examples of the 12C were riddled with electric faults with the infotainment system and door buttons, which were meant to opening by sliding your finger over a small sensor under the doors.
The brand claims to have made big steps forward with the 650S but the cars we tested still displayed a few faults and at one point when into limp home mode – which was cured by simply turning the engine off and back on again. Hopefully these kinks will be ironed out for the finished road cars, and to date the main components like the engine and gearbox have proved durable.
McLaren have many customers who drive their cars over high mileages, and apparently this has helped the brand improve its reliability over the last three years. The carbon fibre chassis tub is extremely stiff and strong, so crash safety is top notch, but apart from its sophisticated ESP system it forgoes any active safety systems, which add needless weight and extra complexity.