McLaren 650S Spider 2014 review
The McLaren 650S Spider is even more intense than the coupe version, delivering open-top thrills
Around 80 per cent of 12C buyers chose the Spider over the coupe, and that trend is likely to continue with this McLaren 650S Spider. Removing the roof heightens every driving sensation – including the staggering speed – without sacrificing an ounce of agility. This is currently the best open-top supercar money can buy, and should help McLaren build on the success of the P1.
The coupe is impressive, but the McLaren 650S Spider is the one you want - it's even more intense than the standard car.
The stiff carbon fibre chassis means the Spider is as rigid and well balanced as the standard 650S, and does 0-62mph in the same three seconds. It costs £20k more, at £215,250, but we'd argue this is money well spent for the extra aural drama and exotic looks. Our car's Torocco Orange paintjob creates a sharp contrast with the carbon fibre aerodynamic parts sprouting from the bodywork.
The roof stows behind the buttresses in seconds, and with it down it's even easier to enjoy the roar of the new exhaust at full throttle. The new 'cylinder cut' system creates a blip on fast upshifts, and we experienced the full repertoire of the 3.8-litre V8 in a few tunnels.
It doesn't sound as spine-tingling as a naturally aspirated engine, but it's still special. You can enjoy the noise with the roof up as well, as the small glass rear window slides open to let more of the sound in.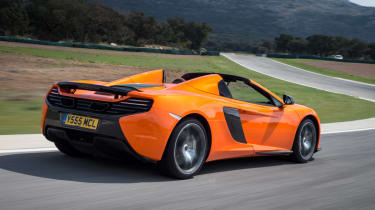 Thanks to the extra 25bhp and 78Nm over the 12C, the 650S Spider shrugs off its 40kg weight penalty. At the track it has the same razor-sharp agility as the coupe, and new optional bucket seats reinforce the increase in focus.
The stunning 19-inch alloys wear sticky 20-profile Pirelli PZero tyres, and buyers can add £5,000 optional racing seats to make the 650S feel even more focused than a McLaren 12C.
It's not too bad for space, either. You might be surprised by just how much luggage you can fit in the nose of this open-top supercar – the 650S Spider can carry a couple of weekend bags.
We're still not fully convinced by the 650S's looks, but the refined dynamics and sheer pace make it a stronger choice. If there's a better open-top supercar, we haven't tried it.