McLaren P13 and P1 Track confirmed
McLaren P13 confirmed as part of future model line-up, along with new track-focused P1 variant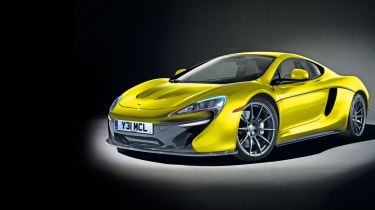 McLaren has revealed plans for its continued growth with the release of two new models in 2015: the McLaren P13 and the P1 Track. 
The P13 (still a codename) is designed to sit below the 650S, giving McLaren an entry-level product costing around £100,000.
Of the P13, McLaren said: "P13 will be a comfortable, usable, and beautiful mid-engined two seater sportscar, built around a carbon fibre chassis. It will be available in more than one derivative and once fully on sale, McLaren Automotive's total annual production will increase to around 4,000 units per year."
Meanwhile, the P1 Track is based on the road-legal P1 but will only allowed to be driven on a race circuit. Expect an aero pack, a lower kerbweight and track-only tyres. McLaren also said it'll be its most powerful car ever, suggesting it'll have more than 903bhp from its 3.8-litre twin-turbo V8 and electric motor. It's available only to buyers who ordered one of the 375 original P1s.
McLaren Automotive has also announced it made a profit for the first time in 2013 – just three years in to production. 
Operating profit – which can exclude things like salaries and property taxes – stood at £12.4m, while pre-tax profit stood at £4.5m. McLaren envisions both profit and turnover increasing for 2014 and increased its investment in future models during 2013 from £68.1m to £70.6m. Two of those future models are the P13 and the P1 Track.
Mike Flewitt, Chief Executive of McLaren Automotive said: "We are now focusing upon the road ahead.  The McLaren 650S is already selling extremely well with over 1000 orders received and P13 is a very exciting project, which will help us to access new markets and customers, grow our sales volumes and ultimately increase both revenue and profitability. I am confident that by maintaining our commitment to innovation and excellence McLaren Automotive has an extremely bright future."