Tesla considers electric van based on Mercedes' Sprinter
Tesla founder hints at fitting its own electrical tech to Mercedes eSprinter 'gliders'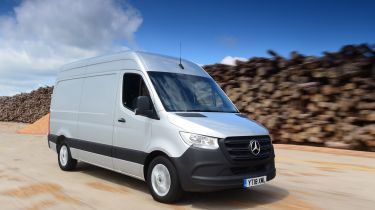 In another of his famously speculative Tweets, Elon Musk has hinted at the possibility of Tesla teaming up with Mercedes to develop an electric van.
Mercedes already has an electric van called the eSprinter due to launch next year, and the Tesla founder has floated the idea of sourcing 'glider' versions of the eSprinter. These 'gliders' would be rolling shells, without  batteries, computers or electric motors, which Musk could then outfit with Tesla technology to get his project on the road.
The two companies have a history of co-operation. In 2009, Daimler acquired a 10 per cent stake in Tesla after a $50 million investment, a move which Musk credits as Tesla's saving grace. Tesla also provided batteries and motors for the electrified Mercedes B-Class.
However, it seems unlikely that an electrified Tesla commercial vehicle will see production any time soon as Mercedes and Tesla parted ways in 2014, with the German manufacturer selling all of its remaining shares after recognising Tesla's position as a competitor in the electrified market.
Tesla also has a backlog of projects it wants to complete before embarking on its electrified van project. Musk closed his remark by stating: "Our priority list is Model Y, solar roof tiles, pickup, semi, Roadster."
Have you high hopes for the latest Tesla project? Let us know in the comments below…