The last ever Evo? Mitsubishi Evolution X Final Concept revealed
Mitsubishi's iconic Evo bows out with the Evolution X Final Concept at Tokyo Auto Salon.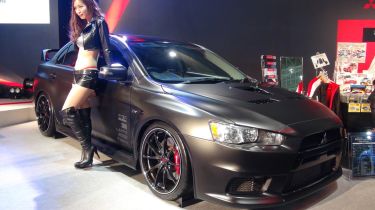 Mitsubishi has revealed the most powerful Evo X to date – the Evolution X Final Concept – at the Tokyo Auto Salon in Japan. It incorporates a tuned ECU and new turbo to give its 2.0-litre engine 466bhp – around 178bhp more than the stock model it's based on.
Based on a five-speed Evo GSR, on top of that power boost it gets larger air intakes and a bigger intercooler, an upgraded cooling system and a new exhaust. As well as all this it also boasts adjustable suspension from HKS, 19-inch Rays forged alloy wheels and sticky Yokohama Advan Neova AD08R tyres.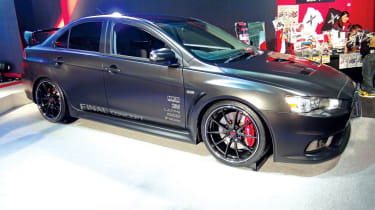 The exterior is finished in a mix of matte and gloss black and chrome trim. Other than the addition of some contrasting red stitching on the seats, the interior is basically standard. Mitsubishi was being cagey when asked about a limited production run, and all we could source from our contact was that the company plans to make these performance parts available for after-market customers including those in Europe.
Yet another insider says that even if Mitsubishi did build the car in limited numbers, which he thinks will happen, it would cost well over $70,000 in the USA – or around £46,000 at the current exchange rate.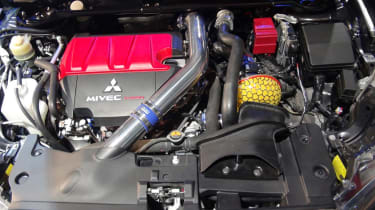 As we found out last year, Mitsubishi has no plans to make an Evo XI – choosing to focus its efforts on EVs and plug-in hybrids going forward. As a result this could be your last chance to get your hands on one of the brand's rally-inspired hot saloons.
Are you sorry to see the Evo go? Do you think Mitsubishi will perform a U-turn and make another one? Let us know in the comments below...