8. Mitsubishi iMiEV
The innovative design of Mitsubishi's i-MiEV city car allows it to convert to EV duties with few compromises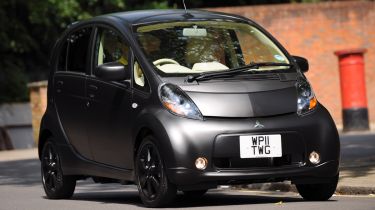 The Mitsubishi i-MiEV was one of the first all-electric models to go on sale in the UK. It's a city car that's far smaller than the Nissan Leaf supermini but still has a decent amount of interior space.
While the Leaf is designed to rival supermini and family hatch models like the Golf and Focus, the i-MiEV is aimed at the smaller city car market where owners will be spending the majority of their time driving around narrow city streets.
And the i-MiEV is very good at that: it feels quick from 0-30mph, it's very relaxing because of the silent electric motor and it'll be cheap to run too. Buyers should be careful though because the limited range can quickly make you think twice about making longer journeys. It's also quite expensive to buy in the first palce thanks to the costly battery technology. 
With the high roofline, there's quite a generous amount of room inside the i-MiEV's cabin for front and rear passengers. Unlike most vehicles the rear bench can only seat two passengers so if you'll regularly be carrying five people then it's best to look elsewhere. Boot space isn't spectacular but the 227-litre load area on offer should be enough for most people's needs. The i-MiEV won't be for everyone though as you can't charge it unless you can park near a plug socket.
Mitsubishi claims that the i-MiEV has a range of about 93 miles but in everyday driving you'll experience more like 60 miles. A full overnight charge will cost around £2, which looks very good compared with the amount of range you'd get from £2 worth of petrol.