Mitsubishi offers £6,500 off Outlander PHEV in scrappage scheme deal
As part of its new scrappage scheme, existing Mitsubishi customers can acquire the new Outlander PHEV at a reduced cost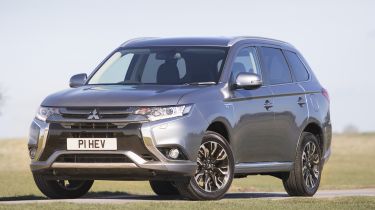 Mitsubishi is offering up to £6,500 off the price of the new Outlander PHEV to customers driving its existing higher-emission vehicles as part of the Japanese manufacturers new scrappage scheme.
The offer is available to pre-2010 Mitsubishi customers with EU1 to EU4 emissions specifications, with Mitsubishi knocking £4,000 off the OTR price for the plug-in hybrid Outlander PHEV. A further £2,500 gets taken off the price as a result of the government's plug-in car grant, giving the customer a potential £6,500 off the new SUV.
• 2017 UK scrappage scheme list: all the deals explained
The scrappage scheme isn't exclusive to the new Outlander. The Mirage supermini benefits from a £2,000 scrappage allowance along with a 5.9 per cent APR PCP finance rate. Customers looking to buy the new ASX SUV will be offered £3,000 while £3,500 can go towards the seven-seat Outlander diesel.
The aim of the generous scrappage deal is to promote Mitsubishi's new range of lower-emission and hybrid vehicles and probably to give sales levels a bit of a boost as well. The Outlander PHEV produces 41g/km CO2 emissions and fuel consumption of up to 166mpg combined, with Mitsubishi offering £6,500 off the price if the customer exchanges their existing model. With this offer, there's good potential to get a cost effective new SUV on your driveway. The offer is available to Mitsubishi customers now and will run until the 28th of December 2017.
Get the lowdown on the latest hybrid SUVs here...