Mitsubishi ASX review
The Mitsubishi ASX is a decent-looking and well-equipped crossover that struggles to match newer rivals on the road
The Mitsubishi ASX was an early arrival in the crossover class when it appeared in 2010. It followed a template set out by the original Nissan Qashqai, as it has off-roader looks, but the dimensions of a hatchback. Today, the Mitsubishi ASX on sale now is largely identical to the car that first went on sale, although a facelift in 2015 was designed to give it a more contemporary look.
However, today's crossover market is very different to the one the ASX originally appeared in. There has been an explosion of models from virtually every manufacturer, and with so many cars jostling for position, the ASX has fallen down the pecking order. Class leaders such as the Peugeot 3008, Skoda Karoq and SEAT Ateca cost a bit more than the ASX, but they deliver a lot more in terms of quality, space, kit, efficiency and general driving enjoyment.
Until recently, Mitsubishi offered petrol and diesel engines. But an update in 2018 saw the range trimmed to just one model, the 1.6 petrol Juro, which has a price tag of around £19,000. Before the revamp that left just the Juro on sale, the other three trims were simply numbered 3, 4 and 5, and a 3 SE model was also offered. Intriguingly, the Juro was the only one that came with the 1.6-litre petrol engine and five-speed manual box, while the rest of the range was diesel, with a 1.6 for six-speed manual cars and a 2.2-litre unit for the automatics.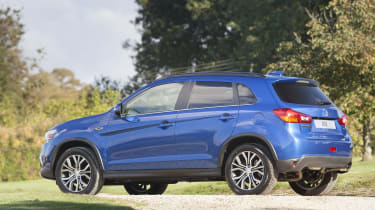 Front-wheel drive is standard with the Juro, and was also th elayout for the 3 and 3 SE, while the 4 and 5 were four-wheel drive. The 4WD system can trace its ancestry to the famous Evo range of rally-derived sports cars, and thar means these versions of the ASX can cope reasonably well off road.
All cars came with 18-inch alloy wheels, Bluetooth connectivity, steering wheel audio controls, all-round electric windows, privacy glass, central locking, Hill Start Assist and Brake Assist. The ASX 3 spec list bumped things up with cruise control and a six-speaker stereo, plus climate control, rear view camera, Xenon headlamps, heated seats and keyless start amongst its features. The main difference between 3 and 3 SE is that the latter adds Nappa leather as found on the top spec 5 model.
As well as adding 4WD, the ASX 4 came with a touchscreen entertainment system, sat-nav and a panoramic glass roof, while the ASX 5 not only added Nappa leather, but also has rear USB sockets, four heated seats and cabin mood lighting.
The Mitsubishi ASX was one of the first mid-sized crossovers to hit the road, but today, it's feeling rather dated when compared to far newer rivals. There's reasonable space for four inside, and there's decent kit, but recent updates have failed to help the ASX keep pace with the class best.
On the road, the ASX feels like an old car, and it lacks the lively character of newer rivals. Running costs are reasonable, though, while the four-wheel drive models were handy if you needed it - it's often becoming an afterthought on most rival models. The ASX should also prove to be pretty reliable, too, and you've always got the peace of mind of Mitsubishi's five-year warranty.
A trimmed back range means there's limited choice, though.
Engines, performance and drive
ASX handles reasonably, but it's not much fun and diesels are noisy
Under the skin, the Mitsubishi ASX uses a cut-down version of the platform from the Outlander. This platform can trace its roots to a joint venture between Mitsubishi and PSA Peugeot Citroen, so it's not likely to be around for much longer now that Mitsubishi is part of the Renault Nissan Alliance.
All versions get MacPherson strut front suspension and a multilink set-up at the rear - so it was easier to fit four-wheel drive on top-spec models.
In corners, the Mitsubishi is reasonable, with good grip and decent chassis control, but vague steering limits the fun. Plus, the stiff suspension results in a firm and inconsistent ride. Whether in town or on the motorway, the ASX bounces from one bump to the next, with very poor body control seeing the car lurch in every direction. At least the ASX performs well under braking, although a soft pedal means a decent shove is needed to slow the car down.
The engine runs out of steam at higher revs, which is a pity, because the gearbox has a vague shift, while the engine holds 2,200rpm at the motorway limit, so isn't particularly refined when cruising.
Engines
As part of the ASX's facelift in 2015, Mitsubishi turned to PSA Peugeot Citroen for a new diesel engine that complies with Euro 6 emissions regulations. But while the French know how to build a punchy and efficient diesel, Mitsubishi failed to add enough sound deadening to make the engine sufficiently refined in the ASX. It suffered from a lot of engine noise, especially when accelerating, and under load the engine note is extremely gruff and sends unpleasant resonances through the cabin.
Still, at least the ASX was quick. The 1.6-litre diesel's 112bhp power output is modest, while a 270Nm torque figure is respectable. In testing, we managed a 0-60mph time of 10.5 seconds which was five-tenths faster than Mitsubishi's claimed 0-62mph time.
If you want more power, the auto model had a bigger 2.2-litre diesel. It's not very efficient, though, and while it makes a healthy 148bhp a 0-62mph time of 10.9 seconds isn't that impressive.
With the 2018 revamp, it's just the 1.6 MIVEC petrol that's now left. It's not the most powerful engine around with 115bhp, and gives the ASX a 0-62mph time of 12.2 seconds.
MPG, CO2 and Running Costs
List prices are good, but ASX's everyday running costs could be better
With prices ranging from around £19,000-£30,000, the Mitsubishi ASX was a couple of thousand pounds less than other crossovers on sale. But now that the sole model on sale is the entry-level Juro, the ASX does offer good value for money. It's a bit smaller than its rivals, though, so the lower prices reflect this somewhat, but you do get a decent amount of kit for your money.
The sole model option is the 1.6 Juro. This replaced the entry-level 2 trim, but the 1.6 MIVEC motor is feeling its age when compared to rival engines. It's naturally aspirated, so it can't match the latest small capacity turbo petrols for emissions, returning CO2 of 155g/km and claimed fuel consumption of 41.5mpg.
The most efficient ASX was the 1.6 DI-D diesel with front-wheel drive in the ASX 3 and 3 SE models. It has claimed emissions of 119g/km and economy of 61.4mpg. When we tested the ASX with this engine, we managed 44.6mpg, while the 60-litre fuel tank means you can travel more than 550 miles between fills.
Go for a 4WD model, and the 1.6 manual sees emissions jump to 132g/km when compared to the front-wheel-drive car, while economy is 56.5mpg. Choosing the auto gearbox also adds the bigger 2.2-litre diesel. While it's more powerful, it also pollutes more, with a CO2 figure of 152g/km and claimed economy of 48.7mpg.
Annual road tax is £140 for all models, but the ASX is a couple of tax groups higher than its crossover rivals for business users - if you must have a Mitsubishi as a business user, then the larger Outlander is a better choice in plug-in PHEV guise.
Mitsubishi offers a service plan on the ASX which costs around £450 for the 1.6-litre models, while the 2.2 diesel bumps up the costs further with a service plan costing around £675. These plans cover the ASX for 3 years/37,500 miles.
Insurance groups
Insurance groups for the ASX range from 20 to 25, with all the 1.6-litre models falling into the lower group. The 4WD auto with the larger 2.2-litre diesel jumps up to Group 25.
Depreciation
Average depreciation scores are achieved by the ASX, with lower spec Juro and 3-spec cars around 41-44 per cent. But the highest spec 5 models only retain around 36 per cent of their value. Mitsubishi's five-year warranty will go some way to helping the ASX retain its value after three years/36,000 miles.
Interior, design and technology
A facelift in 2015 added Mitsubishi's corporate look to the ASX
The Mitsubishi ASX looks like a traditional crossover. Its upright styling apes that of an SUV, and there are plenty of off-road styling cues. The mid-life makeover in 2015 was pretty subtle, with a new front end being the most obvious revision, with extra chrome under the headlights and more protruding snout.
Further back, plastic wheelarch trims were added, while the front wings are adorned by fake chrome air vents, which look small and cheap. The roof features a ribbed design, and the back bumper has been restyled, yet the small glass area and upright rear are unchanged. The boxy shape means the ASX looks a bit dated, but at least the paint finish is good. The door handles feel flimsy and the doors themselves are light and tinny when you open and close them, though.
Unfortunately, matters fail to improve when you climb inside. The dashboard gets a makeover that's just as subtle as the exterior's, with the biggest change being a redesigned centre console. It gains piano-black plastic and the stereo's display has been updated, but it's a dated dot-matrix screen that looks old and is fiddly to navigate around. There's now a colour trip computer set between the dials, too, yet this Outlander-sourced display has blocky graphics.
Even more disappointing is the quality of the materials in the cabin. As the interior is largely unchanged, that means lots of hard plastics are used, while oddities such as the shallow trays ahead and behind the gearlever have been carried over. Our test car suffered from rattles from behind the dash and around the steering column, and they were made worse by vibrations coming from the engine.
Overall, the Mitsubishi is functional, but rather uninspiring, and while the dashboard rattles came as a surprise, the ASX still feels like it's a car that will take plenty of abuse in its stride.
Sat-nav, stereo and infotainment
All cars come with DAB digital radio, Bluetooth with audio streaming and a USB connection with smartphone link via Mitsubishi's own MMCS (Mitsubishi Multi Communication System) smartphone connection.Apple CarPlay and Android Auto are also standard on the Juro model, but didn't appear on any other version of the ASX.
Higher-spec 4 and 5 versions of the ASX did get a premium 6-speaker sound system, although it doesn't carry any specific audio branding, while this also includes sat-nav, SD card compatibility for music hard drives and TMC traffic info. In addition, 5 trim also included rear USB sockets for charging devices.
The infotainment system isn't the most user-friendly, with various sub menus and complicated sat-nav programming. But at least it includes shortcut buttons running down either side of the screen, so you're not lost in a sea of sub-menus all of the time.
Practicality, comfort and boot space
Growth in the crossover class means the Mitsubishi ASX can't compete with rivals for outright space
As it's based on a shortened Mitsubishi Outlander platform, the ASX isn't the roomiest crossover on sale. There's not much space in the back, and the boot is on the small side, too. Compared to smaller crossovers like the Mazda CX-3 and below, the space inside is on a par, but as the ASX was originally marketed as a rival for the Nissan Qashqai, that's not a good sign for family duties. Storage is at a bit of a premium, too, as there are no door bins in the back. Up front you get a pair of 12V sockets and door bins with cut-outs to store bottles, and there's an armrest storage bin, too.
Size
The ASX measures 4,365mm long, 1,810mm wide and 1,640mm tall. It has a wheelbase of 2,670mm, which contributes to the tight space inside. If you're planning on taking the 4WD models off-road, Mitsubishi quotes ground clearance of 180mm (which strangely is 10mm less than the 2WD version), a 20.2-degree approach angle, a 32 degree departure angle and a breakover of 18 degrees.
Leg room, head room & passenger space
Rear legroom is where the ASX sacrifices most of its interior space. It's a little tight, especially for taller passengers, although the upright body design mean there's decent headroom. Space up front is better, with decent space and an armrest between the front seats.
Thee steering wheel adjusts for reach and rake, and the driver's seat is also height adjustable, although the passenger seat isn't. The driving position gives a good view of the road ahead, as you sit taller than in a hatchback, which is one of the chief reasons people buy crossovers like these
Boot
With a 416-litre boot, the ASX was once a decent performer for boot space. But today larger rivals such as the Nissan Qashqai Mk2 and Renault Kadjar have it beaten. However, the ASX is larger than the similarly priced Mazda CX-3, and its upright design means there's more boot space with the seats up.
The Mitsubishi offers 416 litres compared to the Mazda's 350 litres, but the floor area is smaller, and the wheelarches intrude on the ASX's boot space. There are no straps or netting to secure smaller items, but there is hidden storage under the boot floor and lashing eyes.
The rear bench can be split and also incorporates a ski hatch, but the back seats are fiddly to fold, and the ASX's 1,193-litre maximum boot capacity is 67 litres behind the CX-3's.
Reliability and Safety
Mitsubishi has a strong reputation for reliability, and the ASX uses tried and tested tech
The Mitsubishi ASX is loaded with safety kit, including stability control, traction control, Isofix child seat mounting points, brake assist, a passenger airbag deactivation switch and seven airbags, including one for the driver's knees. It fared well in Euro NCAP tests, and emerged with five stars, although that was in 2011, and the test has been made a lot tougher in recent years, so the ASX can't be directly compared to newer rivals.
Traditionally the Mitsubishi brand has always done well in the annual Driver Power survey, and its relatively small dealer network finished an impressive 10th out of 28 franchise networks in our Driver Power 2018 dealer ranking. Owners praised the fast turnaround of their vehicles.
The ASX itself sells in too few numbers to have made the top 200 in our satisfaction poll.
Warranty
Mitsubishi is one of the few car companies to offer a warranty that's longer than three years. Its 5-year coverage has an overall mileage limit of 62,500 miles, which is less than some rivals: Hyundai also offers five years of coverage but has no mileage limit over that time. The reason Mitsubishi pegs its warranty at that figure is because it matches the 12,500-mile service intervals all its cars adhere to.
There is extended warranty coverage available at extra cost, and Mitsubishi offers three levels of coverage named Gold, Silver and Bronze.
Mitsubishi also offers an anti-corrosion perforation warranty that lasts for 12 years.
Servicing
Fixed-price servicing is available on the ASX with the Mitsubishi Service Plan. If you buy a 1.6-litre petrol or diesel, then you can pay for the first three services up front (or add it to any finance deal) for around £450. Buy a 2.2-litre diesel model, and that price leaps to around £675 - to put that into perspective, the larger Outlander 2.2 diesel is around £700, while the PHEV version is only around £525.
For an alternative review of the latest Mitsubishi ASX SUV visit our sister site carbuyer.co.uk
Which Is Best
Cheapest
Name

2.0 Dynamic 5dr

Gearbox type

Manual

Price

£20,110
Most Economical
Name

2.0 Dynamic 5dr

Gearbox type

Manual

Price

£20,110
Fastest
Name

2.0 Dynamic 5dr

Gearbox type

Manual

Price

£20,110