Next Mitsubishi Shogun to be part of plug-in hybrid boom
The 2015 Mitsubishi Shogun will get a PHEV model as part of firm's plans to increase EV production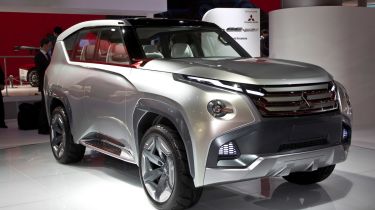 An insider has confirmed that an all-new Mitsubishi Shogun will be launched in 2015. Inspired by the divisively-styled GC PHEV concept revealed at the Tokyo motor show in November, the new range-topper will be offered in PHEV guise.
• Mitsubishi reveals new concept cars at Tokyo Motor Show
However, it is promised that the technology will be a step up from the three-mode hybrid system offered in the current Outlander. The GC concept featured a 3.5-litre V6 petrol engine, two electric motors and 'S-AWC' (Super-All Wheel Control).
Mitsubishi has confirmed that 20 per cent of all its models will feature plug-in hybrid technology by the year 2020. The first step is the Outlander PHEV (Plug-in Hybrid Electric Vehicle), due to arrive in the UK shortly.
• Mitsubishi Outlander PHEV review
It's possible that the PHEV version of the Shogun will do away with a prop shaft to the rear wheels and instead use an electric motor to offer full-time four-wheel drive. An engineer also confirmed that the high-tech augmented reality windscreen of the GC concept is under development, but legislation issues prevent it from hitting series production for the time being.
In 2016 Mitsubishi will launch a production version of the XR concept shown in Tokyo, which replaces the current ASX crossover. It too will be offered in plug-in hybrid guise, though only with front-wheel drive. The PHEV system is said to be less sophisticated than that in the new Outlander model, in a bid to keep costs down. Four-wheel drive will be available with conventional engines.
Mitsubishi will display the XR and GC PHEV concepts again at the Geneva Motor Show in March.