Car colours: black is UK's favourite shade for used cars in 2021
In the second quarter of 2021, black was the most popular used car colour in the UK, followed by silver and blue. For new cars, grey is top pick.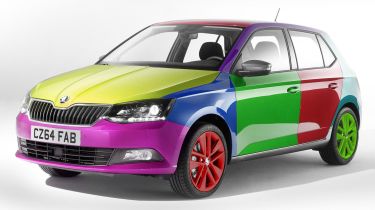 Black is the UK's favourite colour for a used car by a long way, according to new data covering the second quarter of 2021. Between April and June this year, 461,050 black used cars were purchased in the UK, making it the most popular colour by a margin of nearly 100,000 transactions.
Silver was the second-most popular used car colour, with 363,529 used cars of this shade changing hands. Blue was narrowly third, with 362,140 examples sold. The top three colours accounted for 54.8 per cent of all used car sales in Q2 2021.
Some 341,950 grey used cars were purchased during the period, putting this colour in fourth place. White, meanwhile, was fifth on 303,192. Sixth place went to red - 220,472 used cars of this shade changed hands.
Most popular used car colours: Q2 2021
| | |
| --- | --- |
| Colour | Number of sales |
| Black | 461,050 |
| Silver | 363,529 |
| Blue | 362,140 |
| Grey | 341,950 |
| White | 303,192 |
| Red | 220,472 |
| Green | 38,573 |
| Orange | 16,289 |
| Beige | 11,957 |
| Yellow | 11,415 |
From this point, the rest of the colours were sold in much smaller volumes. Used car buyers got their hands on 38,573 green cars in Q2 2021, putting it in seventh place. Some 16,289 orange cars were also purchased.
Bringing up ninth and 10th place on the table were beige and yellow respectively, with 11,957 examples in the former shade sold and 11,415 of the latter.
New car colours: grey on top
Grey held on to its position as the UK's favourite new car colour for the third year running, being sported by nearly a quarter of new cars registered in 2020.
A total of 397,197 grey cars were registered last year - making up 24.3 per cent of 2020's new models. Black - which was the UK's previous favourite car colour but lost its crown to grey in 2018 - came second and white completed a monotone podium. Of the new cars registered in the UK last year, 61.6 per cent were finished in either grey, black or white.
The rest of the top 10 ranking remained unchanged from last year, except for yellow and bronze, which switched places and are now in ninth and 10th place respectively. Yellow saw a 50 per cent increase in its market share, but this increase only equated to 6,816 cars.
Red car popularity on the slide
According to the latest figures from the Society of Motor Manufacturers and Traders (SMMT), registrations of red cars dropped below 200,000 for the first time in a decade - the 147,222 new cars painted red in 2020 marked the colour's worst performance since 1997.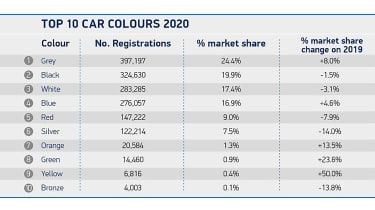 Grey was the most popular colour for both petrol and diesel cars, but the favourite choice for EV buyers was white, while more new plug-in hybrids were painted black than any other colour.
Whereas in 2019 Scotland and the Channel Islands had different favourite car colours to the rest of the country, last year saw grey win unanimously across all nations of the UK. Regionally, only three areas didn't have grey as their favourite colour - drivers on the Isle of Wight and in the Scottish Borders chose blue, while Strathclyde buyers opted for white.
Leicestershire was the most popular part of the UK for pink cars - 23.7 per cent of the UK's total for 2020 were registered in that county. The West Midlands, meanwhile, saw the most orange cars registered.
There were a total of 106 different car colours for new cars in 2020, the least popular of which was maroon.
Mike Hawes, chief executive of the SMMT, said that "2020 was a pretty dark year for the automotive industry and having grey as the top new car colour probably reflects the atmosphere.
"The sector, however, continues to provide valuable mobility, from vans delivering essential goods to private cars helping key workers do their jobs, and click and collect offers a lifeline for the industry, helping to keep manufacturing going.
"It cannot, however, replace the showroom experience and the sector has taken great steps to ensure dealers are Covid-secure with the flexibility to manage customer appointments so car buyers can choose a new car and colour in a safe environment."
How important is the colour when you're choosing a new car? Tell us in the comments below...